Jose Mourinho hailed a "monster" performance from Paul Pogba after the World Cup winner answered Manchester United's call and helped deliver victory against Leicester.
France international Pogba played, and scored, in the World Cup final just 26 days ago but with options thin on the ground he barely hesitated when invited to take to the field against the Foxes.
Mourinho would rather have had more bodies available due to successful transfers – and made one pointed reference to his own role in the recruitment process – but he could not fail to be impressed by Pogba's powerhouse showing in the 2-1 win.
The midfielder successfully converted a third-minute penalty to give his side the lead and gave everything until the 84th minute – by which point Luke Shaw's first career goal had doubled the advantage.
Jamie Vardy's sniper's effort set up a tense finale but, after a frustrating summer, Mourinho was at least able to celebrate three points.
"Pogba was a monster, we thought maximum 60 minutes but he managed (more than) 80," he said. "Pre-season was very hard and we needed this fantastic spirit by the players to manage this performance and this result.
"(Picking Pogba) was not hard, the decision belonged to him. Andreas Pereira comes from the Valencia bench as a winger to play number six, Fred (has had) 10 days training (and comes from) the Ukrainian league direct to Old Trafford. Ander Herrera injured.
"I had only two options, Scott (McTominay) or Paul, but if I play Scott I play two kids and a new player, so I asked Paul and he put himself available for the team and he was very, very good for us."
The Portuguese gave a firm hint that three points did not fully assuage his feelings about United's modest transfer activity.
That led to a pointed tip of the hat towards Leicester's summer business – which ended up exceeding that of the Red Devils.
"We played well in periods against a good team that invest more than us. We must get used to teams who have players of the same quality that we have," he said.
"Every team is a good team, forget the name, forget the history, forget the shirt.
"I had my plans for many months and I find myself with the market closed in a situation I did not think I would be in. It's the last time I speak about it. It's over, the market is closed.
"That's football management. I think football is changing and managers should be called head coaches. We have to wait until the end of November to understand if we can fight for the title."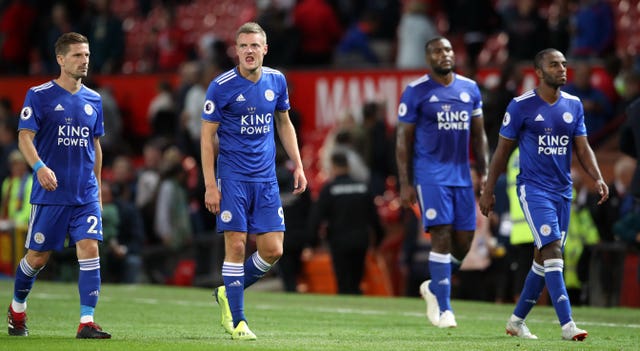 The striker played considerably fewer minutes in Russia than his team-mate but Puel explained his selection was a balancing act.
"I made a choice to try and finish the game," he said. "All my players did not have 90 minutes in their legs and bodies.
"Harry started and played well, Jamie came in with good quality and scored. We had a lot of problems preparing this game.
"Harry and Jamie came back just on Monday, with few training sessions, but I have a lot of injuries and players not available from the World Cup. In this condition it has been a good performance."