New father Chris Woakes gave himself extra reason to celebrate with a brilliant maiden Test century on his Lord's comeback.
Woakes' unbeaten 120 was the lynchpin of England's recovery from 131 for five, especially in a sixth-wicket stand of 189 with Jonny Bairstow who fell seven short of a century.
The hosts closed day three of the Specsavers Test on 357 for six – and with a huge lead of 250 over India.
All-rounder Woakes, recalled after injury to replace the absent Ben Stokes, admitted afterwards he was so caught up in the moment when he reached three figures that it never entered his head to conduct a 'baby' celebration – following the birth of his daughter Laila last month.
There was no rocking gesture, so beloved of modern-day footballers, from the understated Woakes – whose 159-ball innings followed two wickets the previous day as he proved he is right back to his best after two months out with injury.
He said: "The lads did ask me actually where was the baby celebration – but for some reason, that wasn't really on my mind.
"I didn't really have any ideas of how I was going to celebrate, and didn't really know how to – but I'm obviously just delighted.
"It's still a bit of a blur. It seems to go so fast – 30 seconds of raising your bat feels literally like a blink of the eye.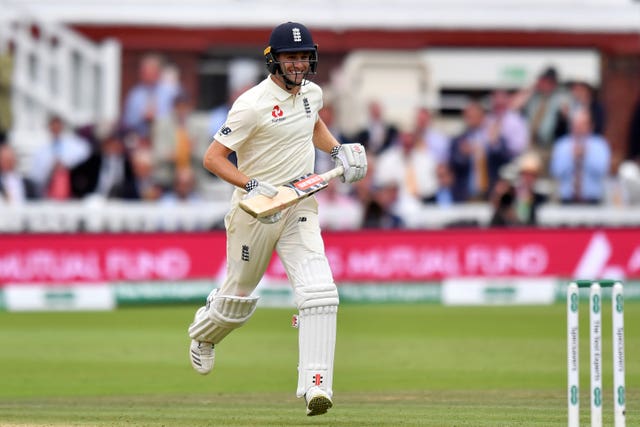 He confirmed life has changed in the Woakes household since the new arrival six weeks ago.
"Yes, it has been a little bit different – a little bit of a shock to the system, but obviously fantastic as well," he said.
"It certainly puts things in perspective, when you have a bad day at the cricket and go home."
Back on Test duty, Woakes' return could hardly have gone better – at a venue where he has always fared well, and has the distinction of a Test batting average above 50 and bowling average under 10.
"It's a sweet day," he added. "I was over the moon to get the call to be back in the squad.
"I could never really have dreamt of scoring a hundred in my comeback Test.
"With five or six weeks out injured, you're watching the boys all summer – and you want to be out there."
He had to sit out his home Test at Edgbaston, and a thrilling England victory, last week – but was determined to be himself here rather than try to copy the man he was replacing.
"Coming in in place of Ben Stokes, it's quite big shoes to fill," Woakes said.
"But you try not to think about that – I don't try to play like him, I play like myself, try to do my job for the team, and thankfully I've done that so far."
Woakes and Bairstow became ever more comfortable against a touring attack who found conditions significantly changed after their own batsmen had been hustled out for 107.
Asked about the increasingly benign conditions, India all-rounder Hardik Pandya said: "Nothing happened – that was the problem.
"We tried, but all of a sudden the ball stopped swinging. Then Woakes and Bairstow took the game away.
"Today what we got was the actual wicket we expected on the first day. Because of the weather, the wicket changed."