Paul Pogba believes Manchester United must stay "mad" to beat Tottenham and atone for Sunday's Premier League loss at Brighton.
Captain Pogba admitted United's travelling fans had every right to be furious about his side's 3-2 loss at the Amex Stadium, where Glenn Murray, Shane Duffy and Pascal Gross struck for the Seagulls.
United found the net through Romelu Lukaku and a late Pogba penalty, but Chris Hughton's Brighton were worthy winners.
Jose Mourinho's side struggled for urgency and fluency on the south coast, with France star Pogba conceding they face a stern challenge to hit form when hosting Spurs at Old Trafford on Monday week.
"We always play for the shirt and the fans, this is not the result we or they wanted," Pogba told MUTV. "They should be very mad. We should be mad. Everybody is mad. We are mad.
"The next game we want to change this. We want to be happy at the end of the game, with smiles on their faces and give the fans a nice weekend afterwards.
"We definitely don't want to lose two games in a row, so we're going to have to get ready and play much, much better than today.
"We're not here just to play games and be in the Premier League, we are here to win, we are Manchester United, and that's what we do. We want to win trophies, that's the mentality and the culture of the club.
"We didn't do it and we are very disappointed.
"There's lots of games still and we have to stay positive, and by staying positive is how we will fight for a good result against Tottenham."
Hughton's Brighton dismantled a curiously lacklustre United, with target man Murray bullying the visiting defence all afternoon.
The 34-year-old produced a cute first-time finish for Brighton's opening goal, to toast his 200th appearance for the club. Then defender Duffy tucked home, and by the time Gross dispatched his penalty, United were all-but dead and buried before half-time.
Brighton toppled United 1-0 in May en route to a 15th-place Premier League finish last term, and just three months later were at it again.
Pogba insisted it is unacceptable for United to make the same mistakes at Brighton, especially so soon after their previous Amex Stadium humbling.
"That's twice in a row we've lost against them here," said Pogba.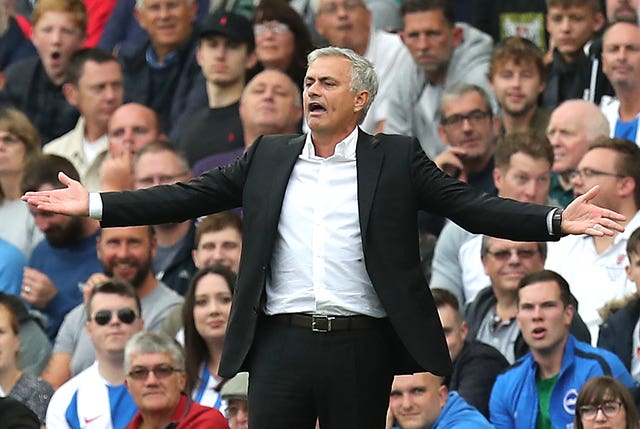 "Myself first, should have done much better, less mistakes, control more the game.
"This was a bad performance for all of us. It's wrong we dropped points.
"You have to wake up for the next game and definitely not play like we did today."