Jonny Bairstow's availability to bat is set to boost England's chances of defying history against India at Trent Bridge.
Wicketkeeper Bairstow is optimistic he will be able to help out despite suffering a "small fracture" to his left middle finger when he failed to gather a ball from James Anderson cleanly on day three of the third Specsavers Test.
He was replaced behind the stumps by Jos Buttler while Virat Kohli (103), Cheteshwar Pujara (72) and Hardik Pandya (52no) were piling up 352 for seven declared to leave England facing a world-record run chase of 521.
Alternatively, they need to bat out six sessions to stay 2-0 up with two to play – a highly unlikely task, but a little more realistic perhaps in the knowledge Bairstow should be in the middle order.
After the hosts reached stumps on 23 for none, Bairstow told Channel 5: "We are going to see how it is in the morning.
"It is a fracture, but it's not displaced – and that is a big thing.
"We hope that, with a bit more ice overnight and some protection, (it will help)."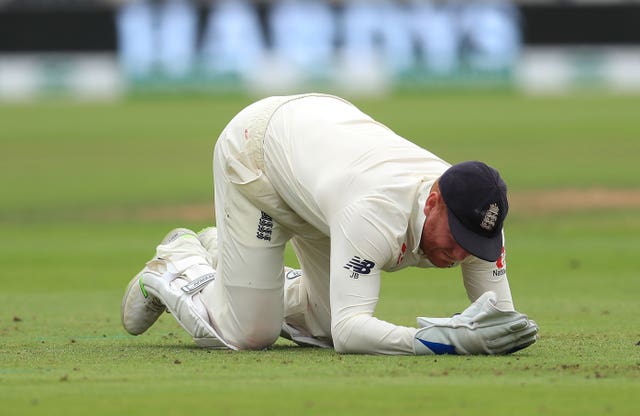 "It just goes numb after the ice bath – the first 30 seconds were pretty horrendous," added Bairstow, who is keeping the faith England can fare much better in their second innings than they did when losing all 10 wickets in one session first time round.
"(India) left the ball well, and we know if we are going to save or win this game that's exactly what we have to do.
"We know the challenge in front of us, and we know what we have to do to save or win this game."
England assistant coach Paul Farbrace is calling on England's senior players – including captain Joe Root and his predecessor Alastair Cook – to rise to the challenge.
"Having had such a poor performance yesterday, you would expect your batsmen to show some gumption and some guts and get stuck in tomorrow and show that they are the best players," he said.
"You're looking for Cook, Root, (Ben) Stokes to get stuck in and show they are top quality players.
"The key for us is showing the right intent – and from yesterday's innings, that would be the biggest disappointment.
"We lost two wickets in two balls, and the intent went out of our innings.
"We can defend (the players), and we can say we've got lots of good players, and players at different stages of their careers – but the key is showing you can do it in the middle."
Cook and Keaton Jennings have made a start at least.
"They played well tonight, but it's about continuing that – everyone going in and playing their way and playing with good intent," added Farbrace.
"Intent doesn't just mean scoring quickly – it means defending well, leaving well, rotating strike."