Former England coach Steve McNamara will walk out at Wembley on Saturday eternally grateful to the man who stayed loyal to him when the going got tough at Catalans Dragons.
McNamara managed to convince chairman Bernard Guasch that he needed more time to turn around the club's fortunes.
But he was told in no uncertain times by the charismatic butcher that he would be for the chop if he failed to complete the task.
McNamara succeeded not only in keeping Catalans in Super League without the need to go through the dreaded Qualifiers for a second successive year, but he also steered them to this weekend's surprise Challenge Cup final appearance at Wembley. The team travelled to London on Thursday morning.
As he prepares for the big game with Warrington, McNamara insists he held no fears for his job, even when Rick Stone lost his at the end of March when his Huddersfield team sat above Catalans in the table.
"None whatsoever," McNamara said. "Bernard was understanding. He fully understood the issues and the problems that we had and how we were trying to implement change.
"But he did remind me that once all those changes had been made and it was my personnel and it was my systems in place, it would be my balls on the line then, as he put it.
"We had a laugh and I agreed completely because that's how it should be."
McNamara, who set himself the task of changing the culture of the players at the Perpignan club, admits he resembled a broken record as he constantly blamed disruption caused by the 2017 World Cup for his team's woeful start to the season.
"They weren't excuses, they were genuine reasons," he said. "When I took the job way back in New Zealand, I knew the situation the club was in and I knew the World Cup would make it even harder to implement change but it was a job I really wanted to do.
"We had to show some patience, brought some really good staff in, and the changes we are making are slowly starting to come though.
"But we're a long way off being finished. We've got a long way to go as a club to establish ourselves amongst the elite rugby league teams in our competition."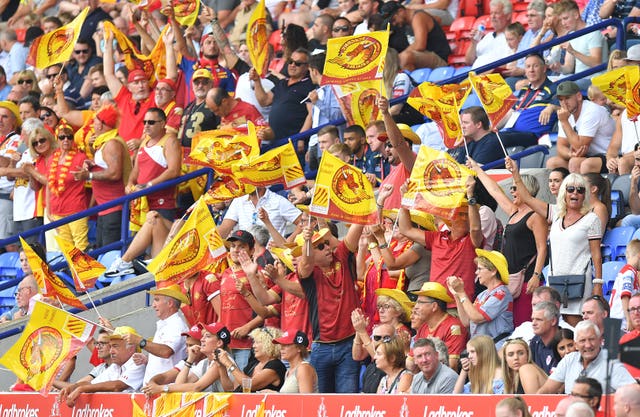 That afforded the coach the opportunity to focus all his attention on the cup. And after their 35-16 win over hot favourites St Helens in the semi-finals at Bolton, McNamara effectively wrote off the last two Super 8s fixtures.
"I make no apologies for what we did," he said. "We had an extremely tough programme,  We were in must-win games every week, including the Challenge Cup.
"Once we got secure in the top eight, it was all about preparing for that semi-final the best way we could, and after that it was about preparing for the final the best way we could."