John McEnroe recalled the hip problems that dogged the latter part of his career as he expressed hope Andy Murray will be able to return to full health.
Murray is set to play his first grand slam tournament in more than a year at the US Open as he continues his comeback from hip surgery in January.
This will be the Scot's fifth tournament back and there have been some encouraging signs, in particular three wins in Washington, but Murray is clearly still some way away from regaining his best form and doubts remain, including from the man himself, about if and when he will get there.
McEnroe took a six-month break from tennis in 1986 partly because of hip problems but never got back to the level he wanted to.
The American, an ESPN analyst, said: "I felt like that time off would refresh me. The plan, I've got to be honest, was to come back and be a better player. I thought there was another gear I could find, and I didn't find it. It was tremendously disappointing and frustrating.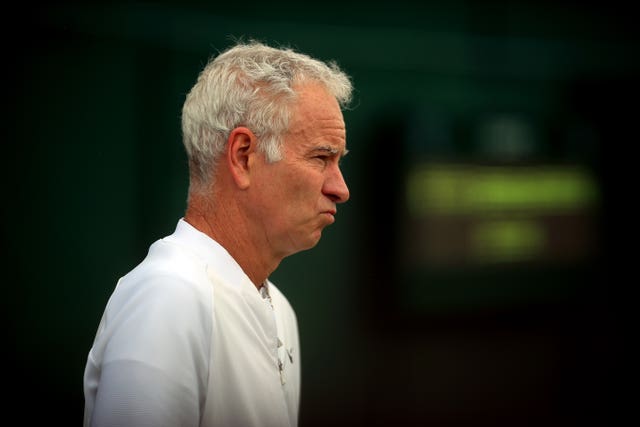 "I think teams in general, the players, are more aware of what needs to be done, what can be done. There's a lot of fresh data out there to help players recover. Hopefully he'll be able to get back to at least close to 100 per cent.
"I think the last thing that any athlete in any sport, in tennis when you're out there by yourself, you want to at least feel like you're going out to a large extent on your own terms.
"He's been out a full year. That's a long time to miss. There's a lot of emotions and frustration. Mentally it takes its toll. Then physically, not knowing if a move is going to cause something that's going to re-injure a part of your body that's so essential to movement, what made Murray great in the first place.
"It's a somewhat sobering and frightening thought. But you also start to realise, 'Hey, I love the sport'. You want to be back in the mix. I'm sure he's excited.
"I don't know him well, but I know him well enough to know that he's done and will continue to do everything he can to get back to as close to what he was as possible. Then he'll be out there in some big matches. He'll be able to appreciate all the effort he's put in to get back."
All Murray's fellow 'big-four' rivals have returned from lengthy injury absences over the past couple of seasons to win grand slams, raising expectations of what is both possible and probable.
Stan Wawrinka, like Murray a three-time slam champion, has had a rockier road since coming back from knee surgery but, seven months on, is showing much more positive form.
Murray is still having to do a lot of rehab and has found the stop-start nature of his comeback difficult, and he does not want to compare his recovery with those of his rivals.
He said: "All injuries are completely different. Some are more serious than others. I haven't really looked at them so much as an inspiration for a comeback. I'm trying to deal with the situation that I've been in as best as I can myself.
"But I do feel that, once my body is right again, which takes time when you haven't played many matches in a year, I'm sure that my level will be OK to get me competing at the top of the game again."