Sam Curran immediately vindicated his Test recall as he came to England's rescue with a defiant, career-best 78 against India at the Ageas Bowl.
Number eight Curran formed a comeback combination with Moeen Ali to bail England out from a pallid 86 for six on the way to 246 all out after Joe Root chose to bat in the fourth Specsavers Test.
That was still an unconvincing total but a vast improvement on what seemed likely before Curran and Moeen's seventh-wicket stand of 81 , on an opening day which ended with India's reply on 19 without loss.
Home aspirations of closing out series victory with one to play appeared washed up as England yet again revisited their modern trend of losing a rush of early wickets to the moving ball.
But Curran countered any thoughts of foregone conclusion, first with Moeen and then Stuart Broad in a ninth-wicket partnership of 63 – demonstrating some English batsmen, albeit not those paid to specialise in the discipline, could after all withstand India's seam-and-swing collective.
It is only 12 days since Curran was told, three matches into his Test career and two after his man-of-the-match performance against these opponents at Edgbaston, that he must step aside to allow Ben Stokes' return at Trent Bridge.
England lost by 203 runs there and like Moeen, back for his first Test since being dropped in Christchurch five months ago, the 20-year-old all-rounder wasted no time proving his worth in another hour of need.
There was one minor moment of fortune on 30, when Curran had reason to thank umpire's call for an lbw survival against Ravi Ashwin.
But otherwise, his 109-ball half-century – brought up like his previous 50 with a six off Ashwin, slog-swept over midwicket this time – was unblemished.
England were in dire straits as India's pace attack swung the ball prodigiously before lunch.
Root was in the thick of it little more than half-an-hour after his understandable decision at the toss.
Keaton Jennings has appeared increasingly frazzled by his international experiences of late, and did not account for Jasprit Bumrah (three for 46) finding previously unaccustomed inswing with the new ball.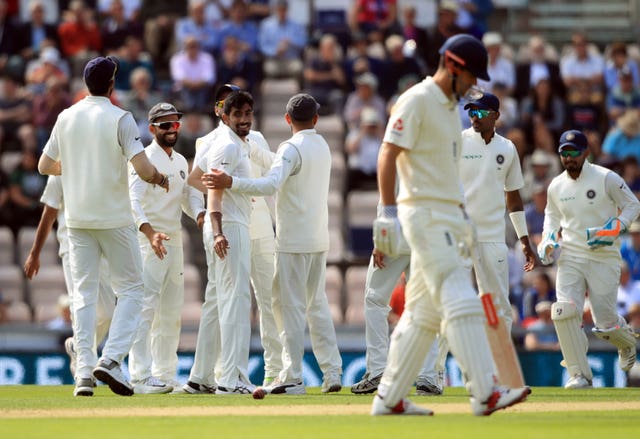 Root then had an lbw reprieve against Bumrah, thanks only to an overstep no-ball discovered via India's DRS. But it made precious little difference, because England's out-of-form captain was lbw for four instead to Ishant Sharma – taking an unwise review with him.
Jonny Bairstow was caught-behind on the back-foot defence to Bumrah, and then Alastair Cook's attempt to ride out the storm foundered in anti-climax when he contrived to guide a cut low to third slip off Hardik Pandya.
Stokes and Jos Buttler avoided further mishap in the morning session.
But Buttler went hard at an early-afternoon drive and edged Mohammed Shami's outswing for Virat Kohli's second fine slip catch.
Stokes' 79-ball vigil ended when he failed to make the intended contact in forward-defence to Shami, from round the wicket, and became the third of England's five lbw victims.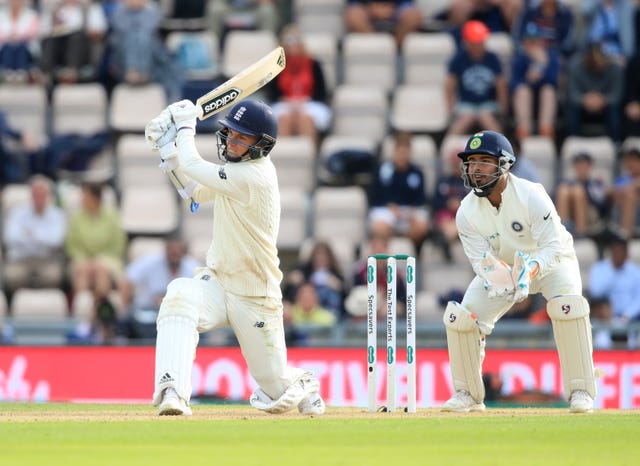 Moeen eventually skied a slog-sweep at Ashwin to Bumrah in the leg-side ring, and Curran was last out when he was bowled by the off-spinner aiming a big hit in the same direction.
By then, though, they had reignited hope England can still remain competitive in this crucial match.