Liverpool manager Jurgen Klopp has told goalkeeper Simon Mignolet that being the deputy to Alisson Becker is "not the worst job in the world".
The Belgium international seemed destined for the exit following the £65million arrival of the Brazilian this summer for what was, at the time, a world record fee for a goalkeeper.
However, Loris Karius – to whom Mignolet lost his place last season – was the one to depart earlier this week on a two-year loan to Besiktas, with the Turkish club undertaking a option to buy for a further £7.25m should he meet certain appearance and European qualification criteria.
It left Mignolet facing another campaign as second choice and prompted him to give an interview in his homeland in which he said he still wanted to play and did not know what the future held for him.
Klopp was not happy the goalkeeper went public but understood his frustrations.
"It is true he will not depart, of course not," he said ahead of Saturday's early kick-off at Leicester.
"In general discussing your individual problems in public does not make too much sense, it is better to speak to each other, I'm a big believer in that. But it was still OK.
"We are all human beings and I have no problem with that, and if he was happy to be a number two then I wouldn't really know him.
"He is a top professional, a top goalkeeper and of course he is not happy to be number two but at the end there are worse things in the world than being number two – pretty good pay by the way at Liverpool.
"In the first moment you understand decisions or not but it is always better to talk to me directly about it than to newspapers.
"It makes not too much sense, if you want to say something to me say it directly – that helps."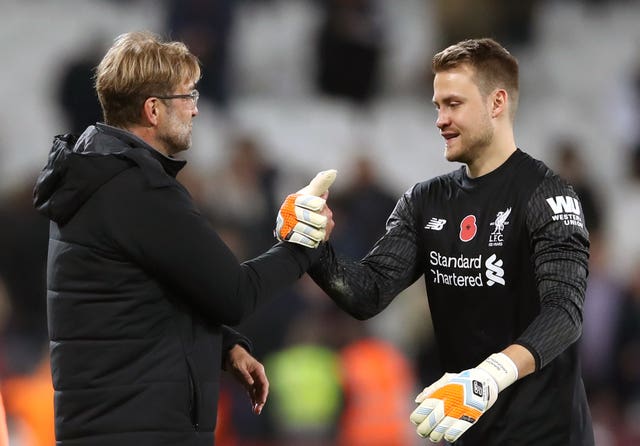 The forward has been in dispute with the organisation since before this summer's World Cup over image rights.
There were further issues at the tournament, as the Egyptian FA decided to set up their training base in Grozny, leading to Salah being pictured with controversial Chechen leader Ramzan Kadyrov.
On Sunday Salah posted a message on Twitter which said: "It's normal that a football federation seeks to solve the problems of its players so they can feel comfortable but really, what I see is exactly the opposite.
Ramy Abbas, Salah's lawyer and agent, sought to clarify the comments, saying they had asked for guarantees regarding Salah's well-being while with the national team and assurances image-rights violations would not happen again.
Salah subsequently posted two videos to Facebook insisting he was asking for better security for the whole team, detailing how he did not want to be disturbed in his room by visitors wanting to chat in the middle of the night as had happened previously.
Despite the usually reserved Salah being so outspoken Klopp said he had no concerns over the player becoming distracted.
"I spoke to Mo about that but it is not for us to intervene in that moment, to say something about that. They will solve that, I am sure.
"It is not about me so it is really between Mo and the FA, that is all I can say about that.
"As long as they talk about us pretty much everything is allowed – well maybe not everything, but a lot."