Amir Khan had to climb off the canvas to continue his comeback with a points win over Samuel Vargas in Birmingham.
The Bolton welterweight, in his second fight since returning to the ring after a two-year absence, was knocked to the floor in the final seconds of the second round.
Colombian-born Vargas had already been put down himself when he stunned Khan and the capacity crowd.
But, with potential next opponent Kell Brook watching at ringside, Khan recovered and floored Vargas again.
He was unable to finish the job there and then, though, and eventually had to settle for a unanimous points victory from what was at times a gruelling battle.
Khan's return in April against Phil Lo Greco lasted a mere 40 seconds, but Vargas was expected to be a tougher nut to crack – and so it proved.
The 2004 Olympic silver medallist had said he wanted to get rounds under his belt and 29-year-old Vargas did not disappoint.
Khan made another fast start, his jabs already landing in the opening seconds and a body shot rocked Vargas early on.
Khan's hand-speed remains his main weapon and Vargos had to withstand a flurry of punches as the opening round drew to a close.
The second round was only 20 seconds old when Vargas hit the canvas, sent on his way by a fearsome left jab.
He was up quickly but was immediately sent staggering backwards again amid more lightning Khan combinations.
Each time Vargas attacked he ducked in low, allowing Khan simply to pick him off at close quarters.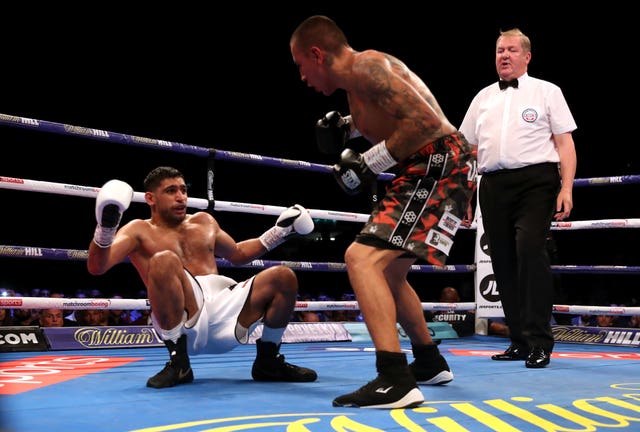 He sprung back to his feet and, fortunately, had time to recover on his stool.
Midway through the third Vargas was back on the floor, albeit briefly, via a clubbing right hand to the ear.
Khan put the accelerator down in the fifth, body shots followed by more ferocious jabs pinning Vargas, with an increasingly bloodied nose, to the ropes.
Vargas survived, somehow, showing some admirable spirit in the face of what at times was an onslaught.
The tempo slowed over the next four rounds, Khan beginning to tire while Vargas gamely continued to plod forward.
Vargas knew he needed to stoppage to win it and pinned a tired looking Khan in the corner in the 10th, desperately looking for another big right-hander.
He found one just as the bell sounded, Khan again caught by surprise, his legs wobbling as he made for his corner.
Khan was happy to just to see the fight out, and in the end was a comfortable winner on all three judges' scorecards.
But it was not a performance which will give the likes Brook, or Manny Pacquiao for that matter, too many sleepless nights.