James Anderson struggled to control his emotions as he reflected on the moment he became the world's most successful pace bowler and saw his great friend Alastair Cook end his international career.
Anderson capped a match of high-profile milestones by overtaking Australia great Glenn McGrath when he took the final wicket of the fifth Specsavers Test to bowl India out for 345 and deliver a 118-run and 4-1 series victory.
England's all-time leading wicket-taker is up to fourth on the global list, alone as a seamer on 564 career victims – with only three great spinners still above him.
His achievement followed Cook's fairytale sign-off with a century in his last Test innings the previous day – and as Anderson recalled clean-bowling India tailender Mohammed Shami on the final evening at The Oval, his fellow national record-holder was uppermost in his thoughts.
"He is my best mate, and it's been brilliant," the 36-year-old told Sky Sports Cricket, before his voice began to crack at the post-match presentation.
"I'm happy that Cooky was on the field to see that wicket."
Anderson was in danger of finishing his summer merely level with McGrath, as KL Rahul (149) and Rishabh Pant (114) shared a sixth-wicket stand of 204 to keep India in with a chance of a world-record chase.
Anderson added: "I just got into a really good rhythm … and thankfully Joe let me take the new ball, eventually.
"It gave me half-a-chance to get that wicket!"
Root admitted he did not fancy his prospects of suggesting someone else bowl instead from the Vauxhall End.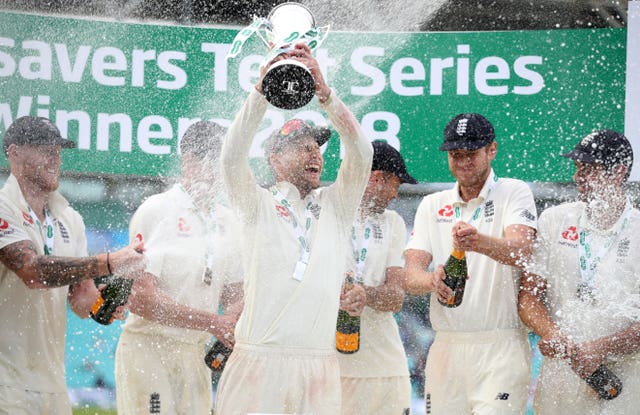 "Especially once that new ball came out, he had that bit between his teeth.
"He didn't look tired, he looked very determined – and when he's in that mood, you want to just keep him going as long as possible."
Root hopes to do that into the future too.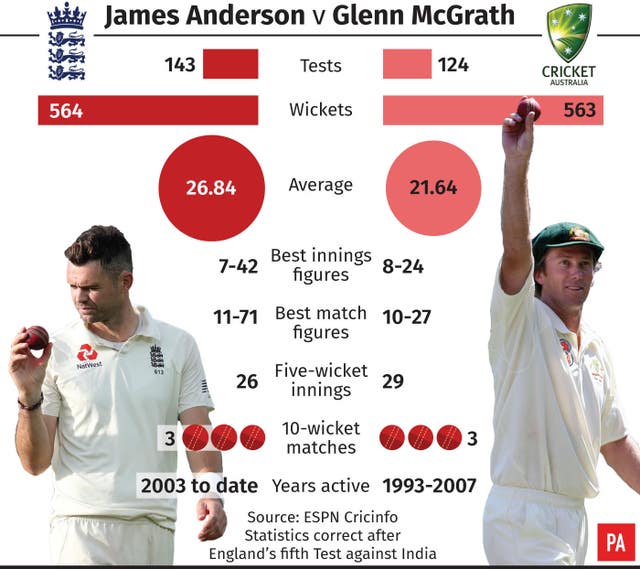 "For him to be in the same league as McGrath, and now chasing the big spinners, is phenomenal.
"I think the most exciting thing is he's bowling at his best. And I can see that carrying forward for a long time still.
"I hope there's going to be a number of series in the future where he is leading the attack and terrorising batters."
As for Cook and Anderson's twin achievements, Root added: "I said it was written in the stars at the start of the week maybe – and for it to turn out how it has is fairytale stuff, isn't it?
"For Alastair to go out like that, and Jimmy to finish the game off in real style was so fitting for those two guys – who are really close mates.
"They're going to miss playing with each other.
"When you saw Alastair's hundred, you could see the guys on the balcony what it meant to them."
Root had the best view of all, as Cook's third-wicket partner as he too made a second-innings century.
"You saw his kids on the screen clapping, and he nearly started tearing up," Root said.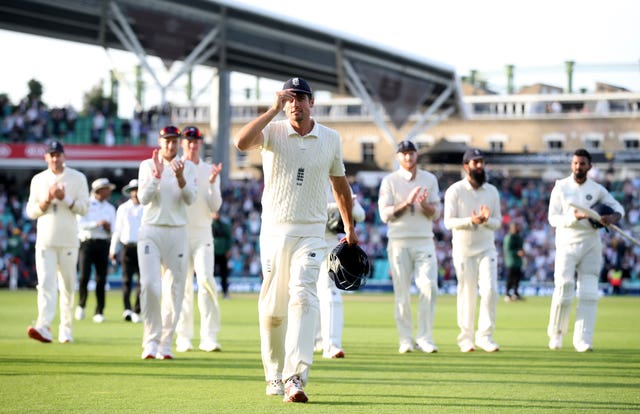 Root's opposite number Virat Kohli paid tribute to Anderson's efforts this summer and throughout his career.
"It's been fun … very competitive, but in the right way," said the India captain.
"As a cricketer you want to be pushed and tested, and guys like him test you all the time.
"He has been very relentless with his skills and he now stands at the top of the fast bowlers' leader board, and he deserves it totally."