Tottenham boss Mauricio Pochettino has revealed Hugo Lloris would have accepted being stripped of the captaincy following his drink-driving conviction.
The Frenchman, who currently has a thigh injury, was sentenced this week for the August offence, with a judge fining him £50,000 and banning him from driving for 20 months.
Pochettino supported his goalkeeper in the wake of his arrest, handing him the armband for the game at Manchester United, and has done so again, even though the full details of Lloris' crime were laid bare in court on Wednesday.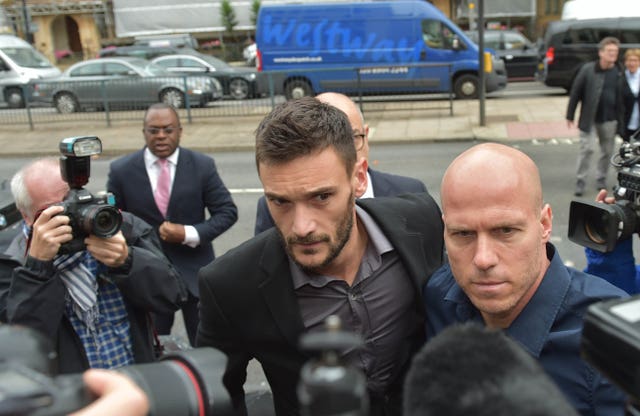 He is thought to have received a hefty club fine, though Pochettino would not confirm it, but the Spurs boss is sticking with him as captain.
Pochettino, whose side face Liverpool at Wembley on Saturday, said: "He apologised to everyone. The staff, the club, the fans, us, and he said, 'Any decision that you take gaffer or the club I think is fair'.
"Of course we have a conversation and he explained what happened. I don't want to say more as I don't want to say anything more that will help no-one.
"He pleaded guilty and that is it. Like a man you need to recognise your mistake."
The 31-year-old, who has been ruled out for several weeks with his injury, was regarded as one of the better professionals at Spurs prior to this incident and he quickly accepted responsibility soon after.
And Pochettino does not think it will affect him when he regains his fitness.
"I don't believe that. Of course it is a thing, he is a man and he is very conscious about what happened and of course you cannot remove," he added.
"But he has the capacity to move on and to learn and be focused on playing football. I have no doubt about that.
"He already knew in the moment that it was a big mistake. Of course all the women, men, people can make a mistake.
"Of course, lucky there was no consequence. That is important.
"And of course now it is a massive lesson for him, a life lesson. Because he is clever he'll learn and now he is going to move on."
Lloris' offence and subsequent injury have compounded what has been a stressful few weeks for Pochettino, who failed to sign anyone in the summer transfer window and has also seen delays to the club's new stadium bring a lack of stability.
The Argentinian admits it has been a "complicated time".
"I am learning a lot! Of course I am learning a lot," he said.
"And of course you learn that today football is not only what happens on the pitch, it's many things that happen around and we need to be ready to deal with all these situations that in the end affect the result on the pitch.
"And of course it's more complicated today to be a manager than 20 or 30 years ago."