Jose Mourinho has launched an extraordinary defence of the way he uses Marcus Rashford, reeling off a list of statistics as the Manchester United boss lashed out at "obsessed" pundits.
Rashford has started only one club game so far this term, before impressing impressed for Gareth Southgate's England by starting and scoring against both Spain and Switzerland.
Those performances led to questions around Rashford's playing time at United, with former Liverpool defender Jamie Carragher saying he needs to leave if he ever wants to develop into a world-class striker.
Such analysis has clearly got under Mourinho's skin, with the boss giving a 276-second answer to one question about the forward's performances for England.
"I think I can expect that Sunday I'm going to be highly criticised for not playing him because some of the boys are really obsessed with me and some of them, they have I think a problem with some compulsive lies," the United boss said of Rashford, who starts a three-match suspension at Watford.
"So I can expect that Sunday some of them they will wake up in the morning and, as always, the first thing they think, that comes to their mind, is Jose Mourinho, so I can imagine on Sunday I am going to be criticised for not playing Marcus.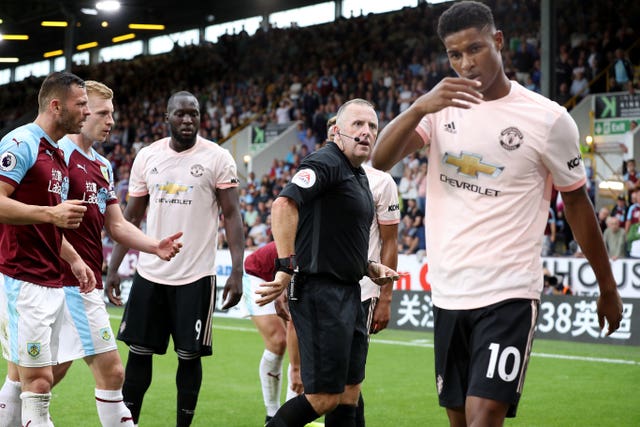 "Performances with England, of course I'm happy.  He played well, he competed well, he scored and especially in a period where he comes with some sadness after his suspension and it was very good that he did that.
"If you don't mind to lose a couple of minutes with me, I'm going to do something, not for you but for the United fans, because I think I hold myself to the United fans and for them I am going to spend two minutes with you."
"Marcus Rashford is not Dominic Solanke, he's not Ruben Loftus-Cheek , he's not Dominic Calvert-Lewin," he concluded, taking aim at some of United's rivals.
"He's Marcus Rashford, Manchester United player, with an incredible number of appearances and an incredible number of minutes played at the highest level in the best possible competitions.
"So Manchester United supporters – for you and just for you – to know what we are doing with Marcus Rashford, Luke Shaw, Jesse Lingard, Scott McTominay, that's what we are doing here."
Mourinho was pointed with his remarks and clearly irritated by the perception he does not play Rashford enough.
"It's not a perception," he retorted. "You know some of the persons, everybody knows that they have double salaries.
"They work also for the clubs and when they work also for the clubs of course they are not independent and of course they conduct things in the direction they want to conduct things.
"That's obvious and that's human, and that's natural. It's not ethical but I accept, clearly.
"The ones that wake up in the morning and the first thing that comes into their mind is Jose Mourinho and Manchester United, I feel sorry for them because there are much more interesting things to wake up and to be happy in the morning (about) than to speak immediately about us and about football.
"But for the Manchester United supporters, I think it is important they have the right idea of how things are in reality.
"But the most important thing of all is that the kid is a good kid, the kid is a good player, he knows what Manchester United did for him.
"Starting in the academy, then Mr (Louis) Van Gaal's support, then my support and the club's support, and the new contract and the new shirt, and being selected for every single match since I am here.
"Marcus Rashford was selected for every single match – he was never, never one day out of selection because of my decision, only if injured or, like in this, because he is suspended.
"He was never, never out of a selection, so he knows and that's the most important thing.
"But, again, media is very important, and I think it's very important the Manchester United supporters they know the truth. That's why I'm going so specific about his numbers."