Europe captain Thomas Bjorn insists he and his team do not fear a revitalised Tiger Woods despite the 14-time major winner's spectacular return to form.
Bjorn said they were not scared of the 42-year-old, who ended a five-year drought with victory at the Tour Championship on Sunday, nor any of his stellar United States team-mates.
Woods has rocketed from world number 1,173 in December to 13th after finally breaking his barren spell at the PGA Tour's season-ending event.
"We don't fear anyone because we've played against them so many times before individually but we respect our opponents and know what we are up against," said Bjorn.
"That, I think, is key to all this. We'll go out and do what we can and play our game.
"What stands on the other side we know is one of the strongest American teams of all time.
"We do what we do as a European team and then we go out and take that onto the golf course – and that's all 12 Americans.
"It's not one individual, it's the whole team we are up against."
The United States team comprises six of the world's top 10 and 11 of the top 17, including number one Dustin Johnson, number three Brooks Koepka and number four Justin Thomas.
But none carry the weight that Woods does, even if his Ryder Cup record is poor by his previously high standards.
In seven appearances he has won 13 and lost 17 of his 33 matches, including just half a point from four matches on his last appearance in 2012.
Much of that was put down to his singular, often aloof, attitude in the past which did not lend itself to a team environment.
But after back fusion surgery threatened to end Woods' career, he has returned a different, more approachable, character and many of his team-mates hung around at East Lake to see him win.
"Tiger played so well at The Tour Championship and to grab a hold of the golf tournament early and fend everyone off, I think was a good buzz in the team room," said USA captain Jim Furyk.
"He's played really well all year, I think. (He's) been knocking on the door at two majors and had a number of opportunities to win this year.
"When you look at now, maybe comparing past Ryder Cups to this one, I think what's so special is Tiger has engrained himself in our team atmosphere and became such a big part of the team in 2016 as a vice-captain, and then again in 2017 as an assistant captain at the Presidents Cup.
"I think it's special for him now to kind of join these younger players as a team-mate.
"You know, he won yesterday as an individual and I know how much that means to him and how important it was, but he's flipped that page pretty quickly and is really excited to join his team-mates and move forward in that process."
Even Bjorn had to admit he was pleased to see Woods back in the winners' circle.
"I spent 25 years playing professional golf with Tiger Woods and any time he does anything great, that's a story and that's where we want to see him," he said.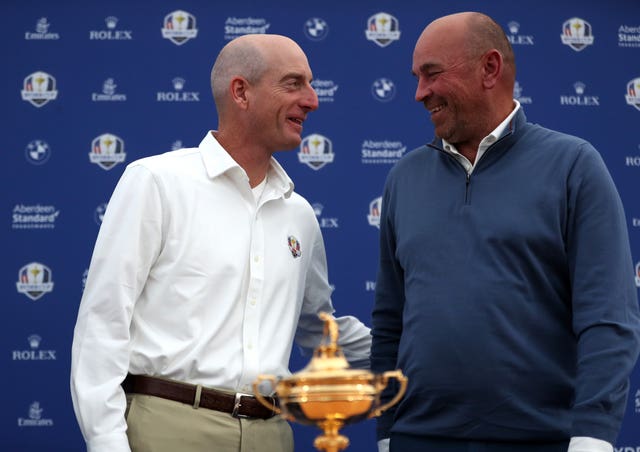 "Him winning golf tournaments is something that's brilliant and I think we all benefit from it because in the end, whatever it is these 24 guys are going to do this week, the game of golf needs that boost of somebody like him that transcends the game to the masses, needs him at the top of the game.
"So for everyone in golf, it's brilliant."