England manager Gareth Southgate is closing in on a new and improved four-year deal, Press Association Sport understands.
Having been parachuted into the hotseat after Sam Alladryce's ignominious exit in September 2016, the Under-21s manager did enough to earn a permanent contract up until Euro 2020.
Southgate has surpassed expectations since getting the job permanently, with England's memorable run to the World Cup semi-finals in Russia increasing the clamour for him to lead the national team for years to come.
"In terms of contract, I have got 20 months – we are into the second half of this four-year plan. I am loving the role, I have been away, and it has not been a priority."
However, Press Association Sport understands a deal until Qatar 2022 will go in front of the Football Association's board on Thursday.
Few would expect the extension for Southgate not to get the green light at a meeting where the potential sale of Wembley to Fulham owner Shahid Khan is likely to dominate the agenda.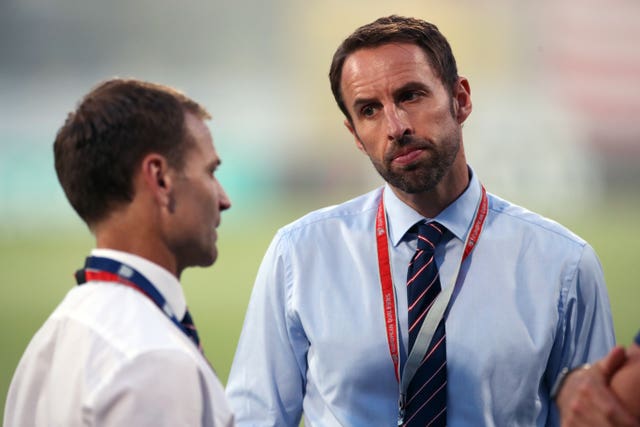 The 47-year-old has held the same role with the national governing body since 2012 and is considered by many in the game to have played a key role in England's upturn in results, particularly at age group level and in women's football.
Ashworth, who will start at Brighton in the spring, will oversee the club's Lancing-based academy and medical departments, and be responsible for player recruitment and development at all levels.
He said: "I am delighted to be joining one of the country's most progressive clubs. This is a huge opportunity for me and I have taken a lot of time to talk to Tony Bloom, Paul Barber and Chris Hughton before making the decision to make the move.
"I have thoroughly enjoyed my time at the Football Association, and I'd like to take this opportunity to thank the chairman Greg Clarke, CEO Martin Glenn, England managers Gareth Southgate and Phil Neville, as well as the coaches and staff at all levels who have supported me so well.
"It's been an honour and great pleasure to serve my country in the past half decade."
Southgate said: "Having recently attended a FIFA conference with Dan, we walked in the room as semi-finalists at a major tournament for the first time in 28 years but perhaps even more significantly as world champions at Under-17 and Under-20 level.
"In terms of the work of a technical director, I don't think he could have had a bigger impact with the plans he put in place at the FA and the way that the national teams have progressed in the time Dan has been in charge."
Ashworth's departure will be a blow to Southgate, who earlier this week praised his contribution to returning England to football's "top table".
However, the former West Brom technical director and Norwich player has made little secret of his ambition to return to club football and his work at the FA's National Football Centre has attracted several suitors.