Henrik Stenson will argue the case with anyone who doubts he holed the winning putt in the 2006 Ryder Cup, but will be happy whoever has that honour in Paris as long as they are on his side.
Europe's record-equalling victory at The K Club saw several matches finishing within seconds of each other, with some debate about whether Stenson's win over Vaughn Taylor happened before or after Luke Donald's victory against Chad Campbell.
"No, I holed the winning putt. There's no debate," Stenson insisted ahead of Thursday's final day of practice at Le Golf National. "If there's anyone with other information I'll meet you behind the media centre later on and we'll iron these things out!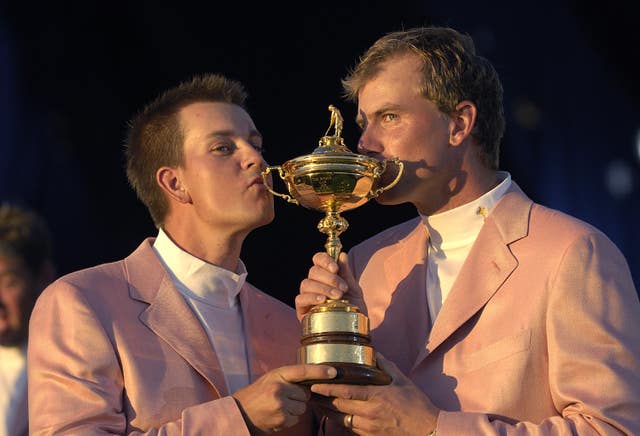 "I'll be happy to give it away to someone who finished long before me."
Stenson partnered Justin Rose to three wins from three matches at Gleneagles in 2014 but the pair were unable to repeat such success at Hazeltine two years later, although their only win was a 5-4 thrashing of America's strongest pair of Jordan Spieth and Patrick Reed.
"Oh that's sweet," Stenson joked when told how pleased Rose was that the man who he had beaten to Olympic gold in the Rio Olympics was given a wild card by Europe captain Thomas Bjorn.
"We were teamed up together at Gleneagles and had tremendous success in that partnership. We didn't do quite as well at Hazeltine, but we still played well together.
"I think it's just about having that trust when you are playing with a good friend and someone you've been out and playing with a lot, you trust him and also the part of feeling no regrets when you do hit a bad shot and you do miss, because that will happen.
"It's just how you move on from there, and not being too caught up in that part of it. Trust and chemistry are important in the team format and we all know that Justin and I got a good partnership. We hope we can play well when we play."
Stenson's participation in the Ryder Cup was in jeopardy when he suffered an elbow injury this summer which saw him pull out of the Scottish Open.
The 42-year-old finished 35th in the Open the following week and has recorded just one top-20 finish since a tie for sixth in the US Open in June.
"It's been dragging on a bit, but I've thought for the most part I've been fit enough to play competitive golf," Stenson said of the injury. "It's been probably more a hindrance in the gym and not being able to do certain things and having to watch that a bit.
"We hope that it's going to be completely gone in a while, we're just managing it and it doesn't really affect my golfing capabilities at this point. I think there's a possibility of playing potentially a bit less than previous matches, but we'll see."