Conor McGregor made a losing return to the UFC after tapping out to bitter rival Khabib Nurmagomedov in their eagerly-anticipated showdown in Las Vegas.
The Irishman made his comeback after nearly two years away from the octagon but was thoroughly outclassed by Nurmagomedov, whose rear-naked choke forced a submission midway through the fourth round.
Nevertheless, McGregor remains a star attraction for the organisation and has several options open to him.
Here, Press Association Sport looks at what his future options are.
Khabib Nurmagomedov
A post-fight melee instigated by Nurmagomedov may preclude an immediate rematch if the Nevada State Athletic Commission decides to come down hard on the lightweight champion.
McGregor is keen, though, tweeting on Sunday: "Good knock. Looking forward to the rematch."
Any return bout would likely be a lucrative affair for all concerned but the toxic nature of this weekend's contest, and the events leading up to it, may halt the UFC in its tracks. The comprehensive nature of the unbeaten Russian's win should be taken into account, too – does McGregor deserve another shot at the champion?
Tony Ferguson
The pair have a mutual dislike of each other although not nearly as intense as the enmity shared between McGregor and Nurmagomedov. Ferguson has been itching for a fight with McGregor – or 'McNuggets' as he has taken to calling the Dubliner – and is ranked number two in the lightweight rankings, so he would be no easy night's work.
However, McGregor would earn the right to another shot at Nurmagomedov if he were to take on and defeat Ferguson.
Floyd Mayweather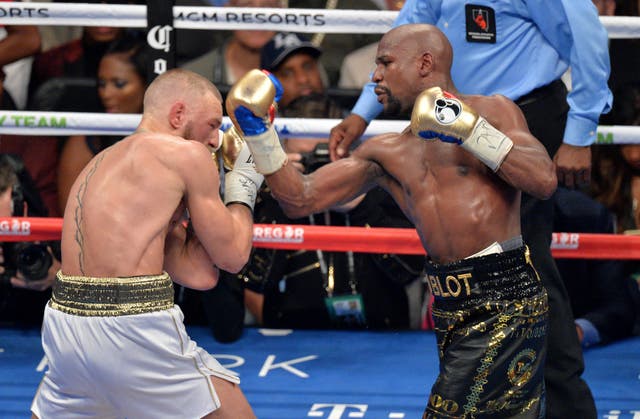 Mayweather took his record to 50-0 in that fight and insists he is retired, although the lure of another big pay day must be a tempting prospect for the man nicknamed 'Money'.
Mayweather earlier this year teased a foray into mixed martial arts but he was most recently in the headlines for suggesting he is close to a rematch with Manny Pacquiao.
Anderson Silva
Retire
But it should be one of the options on the table for McGregor, who is financially set for life after backing up his nine-figure payday with another lucrative pay cheque to take on Nurmagomedov.
Why should he risk his long-term health in a sport that can cause irreversible damage? One reason – and he kept alluding to it all last week – he loves the fight game, meaning it is highly unlikely that we have seen McGregor in some form of combat sport.