Mercedes boss Toto Wolff wants to wrap up Lewis Hamilton in cotton wool with the British driver on the brink of winning the world championship.
Hamilton is 67 points clear of Ferrari's Sebastian Vettel with only four rounds remaining following his lights-to-flag victory in Japan.
But team principal Wolff has warned Hamilton that despite holding an almost unassailable points lead the title race is not over – and revealed he did not want to contemplate his star driver breaking a bone.
"Freak incidents happen at any time, and one failure to finish or a bad result suddenly wipes out a large chunk of points," Wolff said.
"I know from a probability standpoint that doesn't look like happening but this is motor racing, this is sport, and anything can happen. I don't even want to think about Lewis breaking a finger.
"Let's just get it done, go to Austin, have a strong race, and hopefully seal the championship."
Hamilton will head to Texas for the United States Grand Prix, which takes place a week on Sunday, knowing he will secure a fifth world title if he takes the chequered flag and Vettel fails to finish second.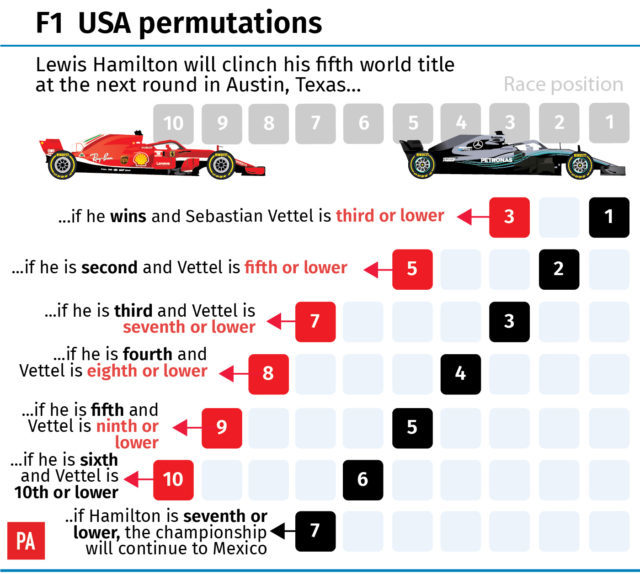 The Englishman also had Vettel to thank for running into Red Bull driver Max Verstappen and dropping to the back of the field at Suzuka in Sunday.
The German, whose championship charge has been plagued by mistakes, recovered to finish sixth, but it is Hamilton who is on the verge of taking his fourth crown in five seasons.
"I have imagined and I have dreamt about winning the title all year long," said Hamilton, who is in Tokyo on Monday to promote his Tommy Hilfiger clothing range.
"But it is one thing dreaming about the title, and another thing executing it.
"We knew we would have a tough battle this year, and you have seen all of the ups and downs, but competition-wise it has been one of the most I have enjoyed in my career.
"My motto is to dream big, and even bigger if you can. On my side, it feels like one of the highs, but I don't want to stop here."