Ross Barkley has returned to the England fold feeling confident he is ready to shine on a consistent basis.
The Chelsea midfielder is back in the Three Lions squad after an 18-month absence as part of the group preparing to take on Croatia and Spain in the Nations League.
He did not play when last selected by England boss Gareth Southgate in March 2017, with his last international appearance coming under Roy Hodgson in May 2016.
In January Barkley joined Chelsea from Everton and after having a limited impact last season, when he was troubled by injury, he has been far more prominent this term under Maurizio Sarri, who succeeded Antonio Conte as Blues boss over the summer.
"I'm over the moon to be back," the 24-year-old told a press conference at St George's Park.
"It's been a long time coming but I feel like I've worked hard over the last couple of years and I feel like I fully deserve to be back here."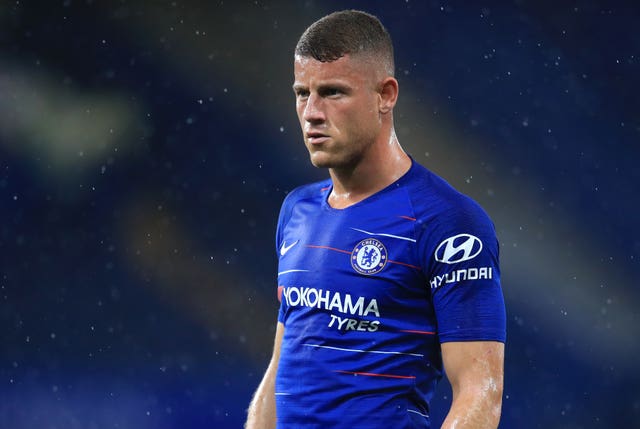 Barkley has established himself in Maurizio Sarri's Chelsea plans (Adam Davy/PA)
Barkley, who last week said he had not "really been coached much" over the years, added: "I've understood a lot, how important (in) football (it) is to take little details on as I am now under my new manager (Sarri).
"I feel much more mature now. I feel like I am ready to show what I'm capable of, what I have shown over the years in spells.
"I can produce goods on game day. Maybe over the last few years I have been a bit inconsistent, but now I am fully focused on giving consistent performances.
"I am understanding my football better than I have ever understood it before and I am enjoying it. I'm happy, I'm feeling really confident, and I feel like I am going in the right direction.
"I feel I am better equipped now. I have been through difficult spells but I feel like I am coming out of it now as a better player.
"I have worked on my weaknesses defensively and I have worked on my strengths going forward and I feel like I am becoming a better all-round player.
"I believe now I am in the best physical shape I have ever been and I am starting to show that."
Barkley has in the past been viewed as a potential successor in the England midfield to Paul Gascoigne, but form and injuries have hampered his progress since he made his senior international debut as a teenager in 2013.
And he recognises that he has a chance to make a name for himself in the coming matches.
"All of the midfielders will be thinking that," he said.
"It is a challenge for us to go out there and produce the goods as Gazza did when he was a player.
"We have a lot of talent in the squad that can produce magic at any point in the game and we have a confident bunch of lads and there is a lot of talent coming through."