Pep Guardiola called for his Manchester City side to be even more clinical after thrashing Burnley 5-0 at the Etihad Stadium.
The Premier League champions eased to victory with goals from Sergio Aguero, Bernardo Silva, Fernandinho, Riyad Mahrez and Leroy Sane but, with only one coming in the first half, Guardiola felt there was room for improvement.
The City boss said: "We had 24 shots – 10 on target. So, we are the best side in Europe in shots but we have to increase our 'on target'.
"In the first half it was just 1-0 and we created enough chances to score more goals. In the second half we made a good performance.
"All the players make a good performance, especially John (Stones), playing in a position that is not natural for him in the absence of Kyle (Walker). Fernandinho made an extraordinary performance."
Guardiola also praised record signing Mahrez, who produced the perfect response to his costly late penalty miss in the goalless draw at Liverpool a fortnight ago.
He said: "He played so good at Anfield – that's why I decided to play him again. He is a talented player and a guy who likes to play with the ball.
"In the box he is a dangerous guy because he can go to the byline or score with his left or his right. He is a good signing for us."
Guardiola confirmed right-back Walker missed the game as a precaution after returning from international duty with a groin problem.
Burnley boss Sean Dyche voiced some complaints after the game, starting with referee Jonathan Moss' decision not to send off City captain Vincent Kompany for a bad tackle on Aaron Lennon in the first minute.
Dyche said: "I prefer red cards not to be given but that was a red card. He was out of control, he doesn't know where the man is or the ball is. It was a throw of the leg and it was high on his thigh. It was not vicious but there was no control in the challenge."
Dyche was also frustrated about the build-up to City's second goal, which saw Sane denied a penalty before David Silva pulled the ball back for Bernardo Silva to score.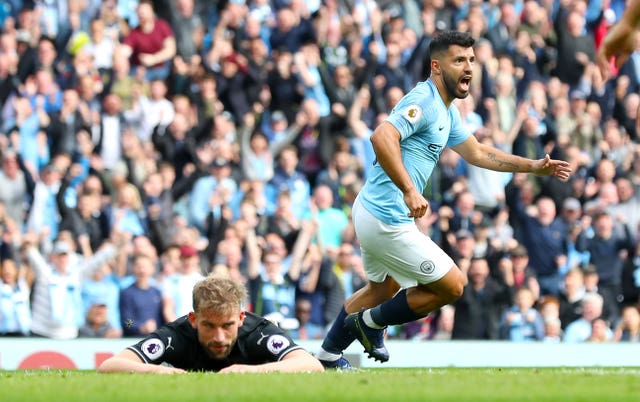 Dyche said: "There are so many different things. Sane goes down with the tiniest of touches and our players are responding to that, feeling he has gone down far too easily.
"The ref is going to blow his whistle and then decided not to. In the meantime a player who was off the pitch walks back on the pitch to get the ball that's off the pitch and deliver a cross that they score from. If that's not confusing for everyone in the stadium, it's certainly confusing for me.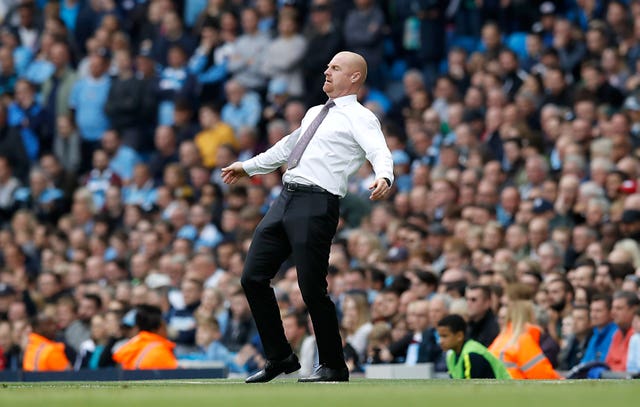 Dyche also felt Sane should have been sent off late on.
He said: "Sane has to be a red card for kicking Matt Lowton for no reason at all, just smashed him around the legs."