Under-fire Real Madrid coach Julen Lopetegui is adamant he will be in charge of Tuesday's Champions League clash with Viktoria Plzen.
Reports suggested the former Spain manager was about to lose his job after an embarrassing 2-1 home loss to Levante at the weekend made it four defeats from five in all competitions and left them seventh in LaLiga.
Real resume their Champions League campaign – where they lost to CSKA Moscow last time out –  against the Czech outfit, and Lopetegui is insistent he will still be in a job.
He told a press conference, as reported in the Spanish media: "I am looking at the situation the same as ever, I am carrying out my day-to-day as usual and that is what is under our control.
"If you want to see a dejected coach then don't look here.
"In my view we have a game that we are looking forward to and we will go about it with total commitment and drive.
"I am not thinking about anything else other than tomorrow's game."
Speculation is rife that the Group G clash could be his last game in charge, but even if they do win, it seems unlikely he would survive a defeat in Saturday's El Clasico against Barcelona.
"It has been assumed as done and dusted from what I have read but what I have done is analyse and prepare for the rival, I am not thinking of anything else which is my responsibility," added Lopetegui.
"I am here right now, I cannot confirm anything else right now. I will be the coach tomorrow."
Midfielder Isco is firmly behind his manager and says the players must take responsibility for the reigning European champions' slump.
He said: "I think it would be crazy (to sack him), you have to let him work.
"He has only been here for two months. If you get rid of the coach you have to get rid of all of us.
"It is us that haven't been scoring goals or playing well. It belongs to all of us, not just the coach.
"The responsibility is on everyone, not just the coach. It's the players that don't score the goals.
"We know better than anyone what the atmosphere is in the changing room.
"It's calm, we're confident we can turn things around."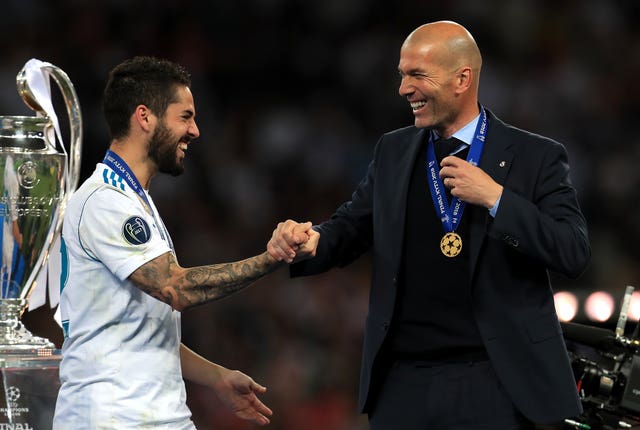 Plzen travel to the Spanish capital second in their domestic league, but without much expectation.
And midfielder Patrik Hrosovsky is not being fooled by Real's predicament.
"We certainly have respect for each rival, and of Real Madrid for that quality of course," he told the club's official website.
"Now they are not doing so much, but last season it was similar and eventually won the Champions League.
"The quality is huge here.
"I look forward to the stadium and the team, it is definitely an exceptional team, three times in a row they won the Champions League and, of course, no one knows if we will ever have a chance to play against such a team again."