Kevin De Bruyne could face another six weeks out after Manchester City confirmed the midfielder has suffered knee ligament damage for a second time this season.
De Bruyne, making just his fourth appearance since his last lay-off, was hurt in the latter stages of Thursday's Carabao Cup fourth-round win over Fulham at the Etihad Stadium.
The 27-year-old was assessed on Friday and, although he does not require surgery on this occasion, will face a period of recovery.
Manager Pep Guardiola said: "For the fact he was out two-and-a-half months and again, we're sad for him. Nobody likes to be injured.
"When you come back you cannot expect in one day to be the player we know he is, he needs time to settle, take the rhythm, the pace.
"Yesterday he came back in many things but it is what it is. Unfortunately he's injured but fortunately it's not surgery. Between four and six weeks, the doctor said, he will come back."
De Bruyne's injury, to his left knee, is not to the same knee he was operated on after sustaining ligament damage in August.
Guardiola said: "This kind of injury is unlucky but I think he's so strong and had recovered so well. The other was more dangerous than this one. He'll recover well, we have an excellent (medical) department."
De Bruyne will miss next week's derby against Manchester United in the Premier League and at least two Champions League games. He is also likely to be unavailable for his side's trip to former club Chelsea on December 8.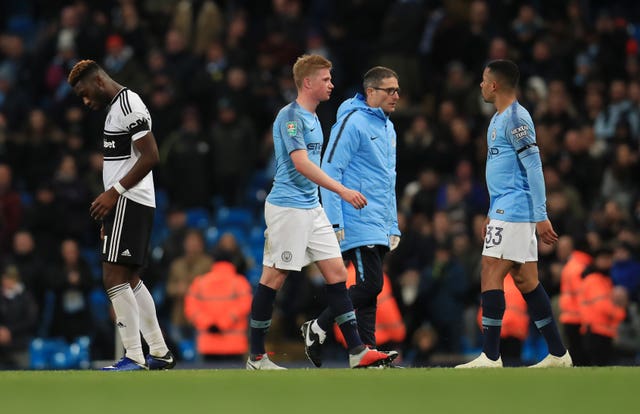 "But we are a stronger team with Kevin than without him. We have to live without him and we have to be there when he comes back, that's all we can do."
De Bruyne's start against Fulham was just his second of the season and Guardiola was asked if he had considered substituting him before he was injured.
He said: "Football is football. It's a dynamic game with a lot of contact and this sometimes happens."
Both goals against Fulham were scored by Brahim Diaz, one of City's most highly-rated academy products.
Guardiola pointed out that he is not directly involved in contract talks but said: "The fact is we want him."
Guardiola also dismissed fresh reports that the club are again interested in signing Barcelona's five-time world player of the year Lionel Messi. The matter has recurred frequently throughout Guardiola's tenure at City.
He said: "I have said many, many times since I came here, when I left Barcelona to go to Bayern Munich and now City that I never went to both clubs and said I want this player. Never. I know how important he is to Barcelona."