Chelsea head coach Maurizio Sarri expects Alvaro Morata to keep improving after the striker scored twice in Sunday's 3-1 win over Crystal Palace.
The often derided Spain forward now has five goals in his last six Chelsea games, although he will rue spurning a late opportunity for his hat-trick.
Sarri said: "Alvaro improved in the last month. Improved for the confidence, improved for personality, also from the technical point of view.
"Now he's able to play more with the team. I think also Alvaro has very great physical and technical potential. He can improve more."
Morata started brilliantly with Chelsea in early 2017-18, but has endured a difficult 2018 calendar year – until lately.
Sarri was reluctant to draw comparisons with former Chelsea striker Didier Drogba and says there is room for Morata to improve mentally.
The Italian said: "He's a little bit fragile, from the mental point of view. He's very young. He can improve very fast.
"Drogba was one of the best in the world for 10 years. Drogba is a little bit too much, but he has great potential."
Eden Hazard was back from a three-game absence with a back problem and was utilised off the bench. He provided Morata's second with his first touch, sending over a free-kick which the striker expertly turned into the net. Pedro then added a third.
Sarri added: "We were very lucky because immediately, the first minute I think, he was able to change our match. Hazard is Hazard, he is able to do it very often."
An eighth league victory from an 11-game unbeaten start saw Sarri, a 59-year-old former banker, equal Frank Clark's Premier League record. Clark was undefeated in his first 11 Premier League games with Nottingham Forest in 1994.
Sarri, who replaced Antonio Conte as head coach in July after Chelsea's fifth-place finish last term, said: "I am very proud to be the coach of this team.
"The record is not a record of the coach, it's a record of the team."
The Blues are second, ahead of Liverpool on goal difference and two points behind leaders Manchester City.
"At the beginning we knew very well there was a gap. Last season the gap was 30 points," Sarri added.
"It's very difficult to cover 30 points only in six months, but we are trying."
Palace are now without a win in six league games, despite Andros Townsend's first goal in 20 league games.
Hodgson said: "I'm always disappointed when we lose, and it's happened quite a few times. But I can't be critical of the team's performance.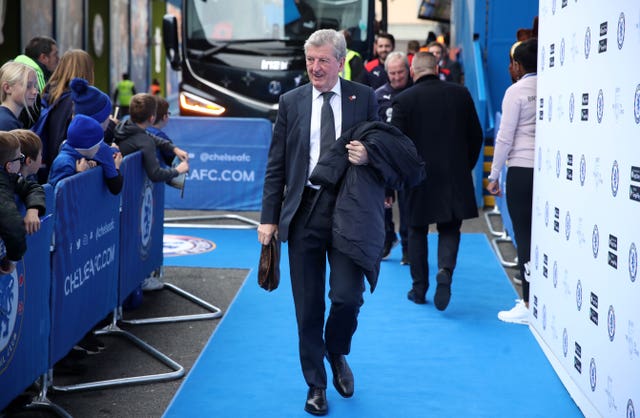 After drawing with Arsenal and losing to Chelsea, Palace play Tottenham and Manchester United in their next two games.
Hodgson added: "It doesn't really matter where you are at Christmas. Last season we were very rarely outside of the relegation zone and we ended up 11th.
"We missed chances. We've been a little bit unlucky, we don't have as many points as we should have. But let's see where we are after 38 games.
"It's important to keep going irrespective of what happens in the next few games."