Brad Shields came "very close" to New Zealand selection before opting to represent England, according to All Blacks assistant coach Ian Foster.
Wasps flanker Shields will face the country of his birth in England colours this weekend when the All Blacks arrive at Twickenham to take on Eddie Jones' side.
Shields was born in Masterton to English parents and played for Hurricanes before moving to Wasps and tasting Test rugby with England.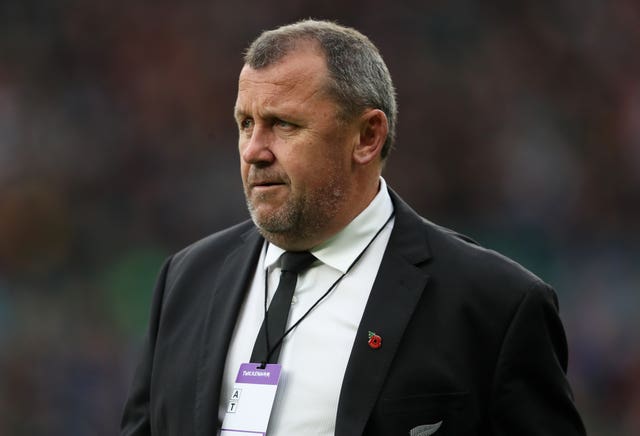 "I guess the obvious answer, which really is the only answer, is that the selectors didn't pick him," said Foster.
"It's like everything – when you're selecting a national team, there's a whole lot of good players that don't quite make it.
"He knew he was knocking on the door; he's a fine player and he was very close.
"So no, I'm not going to give you reasons why we didn't pick him.
"But what we do know is that he is a quality person, he did a great job off the field in the Hurricanes and he was in the conversation a lot with us.
"There will be a bit of banter (among the players) I'm assuming afterwards, but everyone's pretty focused on what we do.
"I think we've got over the stage of seeing him in a white jersey now. And he's just a loosey (loose-forward) who plays for England."
Shields represented New Zealand at Under-20s level but is now an integral part of head coach Jones' England set-up.
His decision to change tack and chase honours with England has previously polarised opinion in the game, but Foster remained personally phlegmatic about the issue.
Asked if such moves are generally respected within the sport, Foster said: "I don't know; I think everyone's going to have mixed opinions on that.
"So you'll probably find people that are close to those players and family that might support it, then you'd have others with a different view on players jumping into a national team from another country so quickly.
"But look, it's an issue I don't really want to talk about. It is what it is; he's not alone, there's a few more in a few other teams.
"So it is what it is, in the current laws."
Stellar fly-half Beauden Barrett continues to set new standards in ball-in-hand play, but has struggled at times kicking at goal.
Foster mounted a staunch defence of Barrett's all-round abilities, insisting the 27-year-old can still help New Zealand become the world's best goal-kickers.
"I don't see too many articles saying Beauden's kicked 11 out of 12 in the last three Tests," said Foster.
"If he kicks two out of six at the posts, it's like a national calamity. But we're pretty happy.
"If you're going to spend all day grizzling about your goal-kicker then you lose focus about their overall part of the game.
"And the overall part of the game is to make sure we win each minute in an 80-minute battle. And the goal-kicking is a part of that.
"We want to be the best goal-kickers in the world, so we're working hard to do that.
"And if you look at our overall numbers, we're actually overall pretty good."