Romelu Lukaku is out of Manchester United's Champions League clash at Juventus with an injury that could also see the striker miss the derby against Manchester City.
After coming from behind to sneak a 2-1 win at Bournemouth on Saturday, United have made their way to Turin as they look to kick-start their push for the last 16.
Juventus are sure to provide as tough a proposition as they did a fortnight ago –  a match that is followed by the eagerly-anticipated trip to swashbuckling Manchester City.
Lukaku has not travelled to Italy for Wednesday's Champions League match with a "muscle, tendon" issue that leads manager Jose Mourinho to fear the striker could also absent for the derby.
"Injured for tomorrow and we don't know for Sunday," the United manager said on the eve of Wednesday's Group H encounter – a game when the Belgian's ability would come in handy, despite his nine-match scoreless club run.
Juventus toyed with Mourinho's Reds when the sides met at Old Trafford, with Paulo Dybala's 17th-minute effort securing a win far more one-sided than the 1-0 scoreline suggests.
United were particularly poor in the first half, as they have been disconcertingly frequently.
"But football is 90 minutes and especially when your opponent is strong, if you give 45 minutes advantage or even 20 or even 10, then you have a mountain to climb.
"The good thing is that lately apart from the Juventus match we were strong enough to climb the mountain and change results and win matches in second halves and last minutes.
"But because I think we are speaking about tomorrow's match, when you play against a super team if you give advantage it's very difficult to climb the mountain then."
Mourinho rejected the notion that the upcoming double-header could be season-defining, pinpointing the home match against Young Boys and trip to Valencia as key to their Champions League hopes.
But United could do with a statement display in Italy, where the locals will be hoping to get under the Portuguese's skin once again.
Mourinho responded to inflammatory chants from the travelling Juventus fans at Old Trafford by holding up three fingers, representing the treble he oversaw when manager at Inter Milan.
"Well, the last match was a very fair match in terms of discipline, it was absolutely exceptional," the United boss said. "It was really fair play, but good manners before and after the match, that is what I require.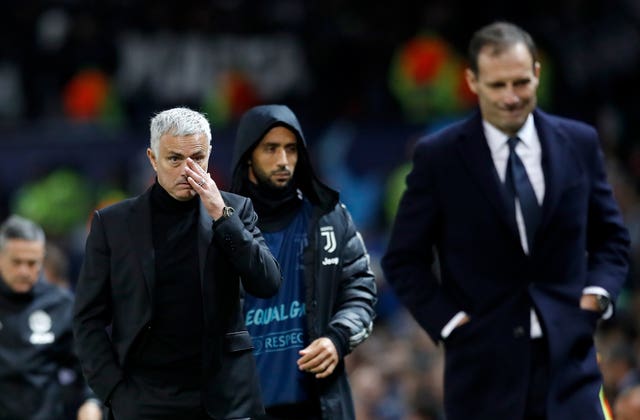 "So, I came to the conclusion that was the only reason (I got that abuse) and that is why I reacted with the three fingers.
"But there are no other reasons behind that because obviously I have good relationship with the club and also with Max Allegri.
"We are good friends, we absolutely have a very good relationship with everybody, so I don't have any bad memories of my times when I was here in Italy, so that's it."