Santiago Solari admitted he remains in the dark as to how long his role as interim coach of Real Madrid may last.
Solari will be on the sidelines for Wednesday's Champions League match against Viktoria Plzen, his third game in charge since Julen Lopetegui was sacked.
Both of Solari's first two matches have ended in victory, fuelling speculation that he could keep the job until the end of the season or potentially even longer.
But Solari said he had not been told anything and is working day to day.
"I am committed to my role, whether that be for two more days, or a week, just the same," he said at Tuesday's pre-match press conference.
Solari already seems to be making an impact, with Real ending a five-game winless run in LaLiga with Saturday's 2-0 win over Real Valladolid, helping to lift the mood of gloom which had hung over the club.
"In football the solutions and problems are never just one thing, whether it is going well or not," he said. "We have played two difficult games, which we had to play well to win.
"You do not win games if you do not do things well. We have to do the same tomorrow in a different competition."
Defender Nacho said Solari had helped lift the players, but still offered support for Lopetegui.
"It is never easy when a club changes coach," he said. "Solari has come from within and has started well.
"The players are happy with him but it is not our decision to make (whether he stays).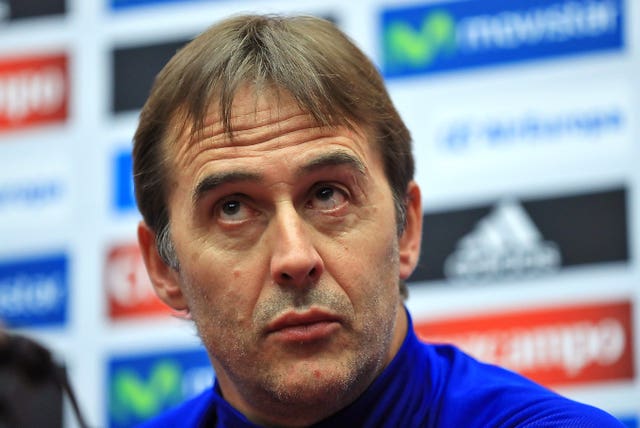 Lopetegui received a stay of execution by beating Viktoria Plzen in the reverse fixture on October 23 and despite their domestic struggles, Real go into Wednesday's game level on points with Roma at the top of Group G.
"This competition is very close to the history of our club," Solari added. "When the anthem is played, we all get excited. It is great to return to this competition."
Though Madrid ultimately took three points when the sides met last month, Plzen created a string of chances against a Madrid side low on confidence and the result could easily have been different.
"We had good chances there, but unfortunately did not get the ending we wanted," midfielder Patrik Hrosovski said.
"If we are able to perform at the very limit of our abilities it can be even better than the first match."