Tony Bellew is confident he will pass the "ultimate test" of his career to become the undisputed world cruiserweight champion on Saturday.
The Liverpudlian faces the highly-rated and undefeated Ukrainian Oleksandr Usyk, holder of the WBA, WBC, WBO, IBF and Ring magazine titles, at Manchester Arena.
Bellew is stepping back down from the heavyweight division for what could be his final fight in the hope of fulfilling his dream of becoming world champion.
Asked if he was facing he best opponent yet, the 35-year-old said: "Yes – he is the ultimate test. There is nothing this man cannot do in a boxing ring. He is the most complete fighter I have ever faced. Everything he does is class.
"I meet a man who has exceptional skills, an exceptional talent. He has everything I have except that one thing – I can turn someone's lights out in the blink of an eye.
"It's never happened to him before but it could happen on Saturday. I am going to find a way."
Usyk, 31, is an Olympic gold medallist and unbeaten in 15 fights as a professional. He is expected to step up to heavyweight in the near future and could have his eyes on Anthony Joshua's titles.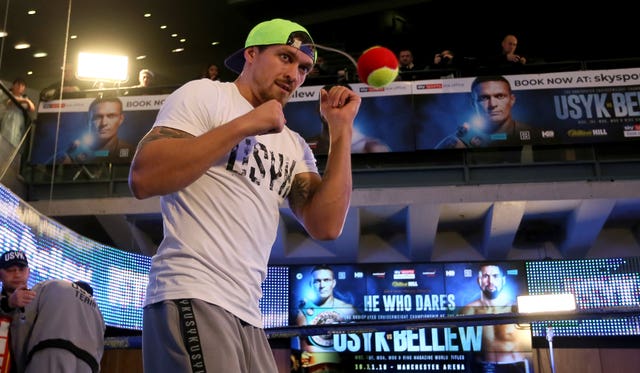 Bellew said: "I have to beat him up on Saturday, or find a way to do the impossible.
"The only chance I have is a puncher's chance – I cannot outbox this man. He is a formidable opponent. He has everything any boxer could possibly want and he is a horrible southpaw.
"But I've shown what I can do at heavyweight and, believe you me, I will show even more what I can do at cruiserweight. I am faster, sharper and possibly even stronger at cruiserweight.
"As good as he is, as great as he is, he is meeting someone with something inside him. I don't know what I am going to do, when I am going to do it, but I just know I am going to punch him in the face really hard on Saturday."
Bellew, despite admitting Usyk may be the superior talent, did not undersell himself for an event on Saturday which promoter Eddie Hearn described as "the biggest and best fight Matchroom have ever promoted".
Bellew said: "This is the most significant fight in cruiserweight history, the richest fight this division has ever seen. Who brought that to the table? I did. He brings the hard work, I bring the money. Never forget that."
Usyk, sitting alongside Bellew at the pre-fight press conference, was more understated.
He said: "Tony is my best opponent ever, definitely. We feel Tony and I will perform our best. I think it will be a spectacular fight.
"Years ago I dreamed about visiting England. I couldn't imagine that some day I would be fighting in Manchester. I am as glad as the small kid who received a Kinder Surprise!"