Lewis Hamilton has warned Formula One's owners that he will walk out on the sport if they go ahead with their plans to expand the calendar to 25 races.
Earlier this week, Liberty Media, the American conglomerate which runs F1, announced that a race on the streets of Vietnam's capital city, Hanoi, will be added to the schedule in 2020.
Liberty are also keen to expand their portfolio in America by adding multiple races and remain hopeful of taking F1 to Miami within two seasons despite opposition from local groups.
The number of rounds stands at 21, while next year's calendar, despite possessing the same number of races, is set to run into December for the first time in more than half-a-century.
But Hamilton, who this weekend begins his title victory parade in Brazil and is, quite comfortably, F1's most marketable star, said: "I am not going to be here if it gets to 25 races, that's for sure.
"It already feels like we are on race number 25 this year, so I don't think more races is going to be a good thing.
"I am someone that really loves racing, but the season is long, it takes a big commitment from all of us, and it is a long time away from our families.
"The seasons are getting longer, and the off-time is getting shorter, so from a competitor's point of view the turnaround is short. You start preparing for next year as soon as the season is so done, so getting your mind tuned is very difficult."
The British driver, who celebrated his title triumph in California, has failed to win a race after clinching the championship with rounds to spare.
In 2015, Nico Rosberg won the last three races, before Sebastian Vettel and Hamilton's Mercedes team-mate Valtteri Bottas claimed a win each last year.
But Hamilton is keen to add to his tally of just one victory at the Interlagos circuit, and suggested he will not step aside for Bottas, despite the Finn giving up his victory for the Briton at September's Russian Grand Prix.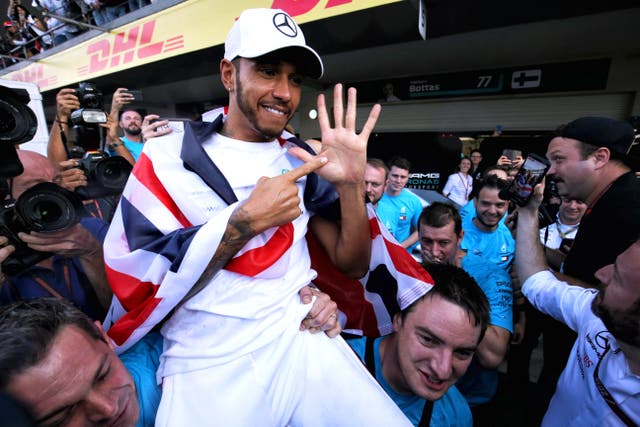 While Hamilton has won nine times, Bottas is yet to stand on the top step of the podium this year.
"I don't know if I would be doing Valtteri any favours in giving him a win," he added. "I don't think he needs that, and he can do it himself.
"It would be great for him to finish on a strong note, feel better in the car and finish off the year strong."