Tony Bellew was knocked out in the eighth round as his brave bid to overcome undisputed cruiserweight champion Oleksandr Usyk ended in heartbreak at a raucous Manchester Arena.
In his final professional bout, Bellew was attempting to become the first Briton to hold all four major world titles – plus the prestigious Ring Magazine belt – in a weight class simultaneously.
The heavy underdog made a courageous start in an electrifying atmosphere but was denied a fairytale finish to his career as the unbeaten Usyk (16-0, 12KOs) demonstrated why he is rated among the finest fighters on the planet.
Usyk gradually started to establish his dominance and closed the show emphatically, flooring his rival with a devastating one-two, prompting referee Terry O'Connor to wave off the count after two minutes of the eighth round.
He therefore retained his WBC, WBA, IBF and WBO titles at 200lbs and may now have the heavyweight scene – and Anthony Joshua in particular – in his sights after a fine performance.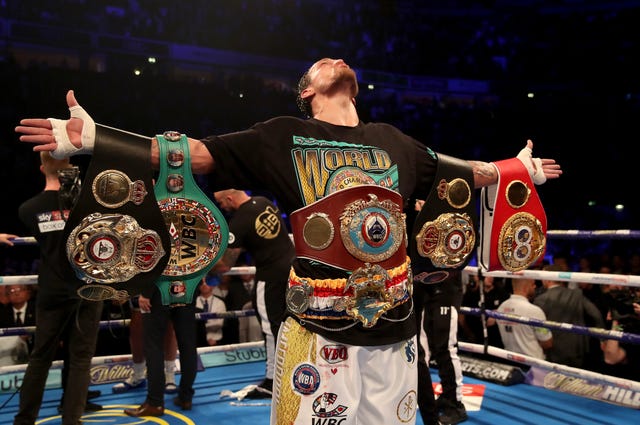 Never one to shirk a challenge, the Liverpudlian acknowledged he would need to "shock the world" against one of the most formidable fighters of his generation.
A London 2012 gold medallist who had made significant strides in his 15-fight professional adventure, Usyk's pedigree was undisputed and even Bellew admitted he would likely need a knockout to triumph.
Bellew, stepping back down to the 200lb division after taking on British rival David Haye at heavyweight in his two most recent outings, had an intense focus as he walked to the ring.
The former WBC cruiserweight champion received a rousing reception and then seemed to offer a few choice words across the ring to Usyk before and after the introductions.
In a cagey opening round, neither man threw anything of consequence, largely circling around each other warily, although Bellew's aggression perhaps saw him take an early lead on the cards.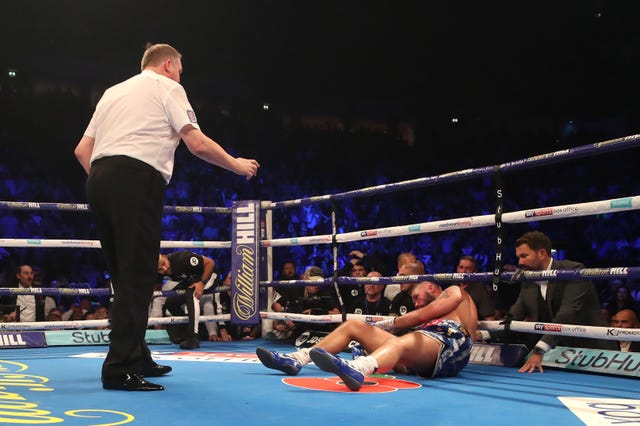 A couple of counter right hands brought the crowd to their feet before Bellew stood in centre ring urging his opponent to come forward, which he duly did with a couple of lead lefts in the third.
Usyk then landed his best punch of the fight in the fourth round when a short arm momentarily stunned Bellew but the pair then engaged in some cat-and-mouse antics before smiling at each other.
Usyk was starting to increase his workrate into the fifth and started to spend more time on the front foot, using his four-inch reach advantage to regularly beat Bellew to the jab.
There was more urgency from Bellew in the sixth but his legs visibly wobbled at the end of the round, the bell perhaps saving him from a follow-up Usyk onslaught.
Usyk, sensing and early finish, came out of the traps strongly at the start of the seventh but Bellew soaked up the punishment before rallying towards the end of the round.
However, he was starting to slow down and was visibly fatigued when the end came, with Usyk following up a sharp right jab with a punishing left that put Bellew on his back.
The 35-year-old, who finishes his career with a record of 30 wins, three defeats and one draw, courageously attempted to get to his feet.
But the fight was ended by O'Connor, leaving Bellew in tears after being led to his corner.