Wayne Rooney will cherish his final England appearance but revealed it was perhaps a blessing in disguise he did not add to his record-breaking goals haul.
The former England captain, record goalscorer and most capped outfield player brought the curtain down on a distinguished international career with a substitute appearance in the 3-0 friendly victory over the United States at Wembley.
However, his 120th cap – a send-off which doubled as a fundraiser for his charity – was unpopular in some quarters, with some seeing the appearance as an unnecessary novelty.
Rooney went close to bagging a record-extending 54th England goal but was denied by Brad Guzan.
The 33-year-old told Sky Sports: "If I did score it would've opened another debate over whether that goal should count or not. In some ways it's better it didn't go in.
"I think it's great the country, the FA are celebrating players who have left their mark on international football for England.
"It never happened in the past, which it should have. It's a newish FA, newish coaching staff. I think it's the right thing to do. It was a great touch for me personally."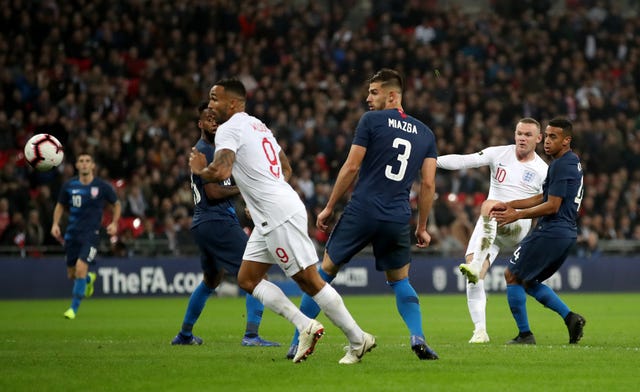 He received a standing ovation in a match that Gareth Southgate's men were already in control of thanks to a fine Lingard effort and Trent Alexander-Arnold's first goal for his country.
There was to be no fairytale farewell goal for Rooney, but he was first to celebrate with Callum Wilson after the debutant scored the third on a night that saw the DC United forward impress against the country he now calls home.
He said: "It went as I imagined it. The players have been great, seeing how they're working and I'm improving. It's been great for me. I want to thank the FA and Gareth for giving me this opportunity, and the players.
"Tonight was a great way to finish off my international career. The lads played brilliant, a great game. Unfortunately I couldn't get a goal. It's something I'll remember for a long time.
"I felt I fitted in well with the team, but I've had my time. Obviously it's two years since I played. Tonight was a great night for me and my family. I'm proud to have played for England so many times and be the record goalscorer."
Rooney will now be willing the World Cup semi-finalists on to greater heights from the sidelines.
He added: "I think (England are) in very safe hands from what I've seen on the training pitch. How the players are getting coached is brilliant. How the players are responding to it is brilliant.
"It's a great group of young players who have got a really bright future. I'm sure in the next few years they will go close to being the next team to bring a trophy back for England.
"I hope they do. It'll be great for the country and I'll be one of the fans supporting them."