Gareth Southgate was immensely proud after England rounded off a year to remember by sealing progress to the inaugural Nations League Finals with a stirring comeback against World Cup semi-final foes Croatia.
Sunday's winner-takes-all clash at Wembley looked to be going the same way as July's encounter in Moscow, with the Three Lions' lack of cutting edge giving Zlatko Dalic's men hope as the match wore on.
Andrej Kramaric's deflected second-half strike for Croatia rocked England, yet Southgate turned to the bench and his group dug deep in a memorable comeback.
Substitute Jesse Lingard levelled from close range 12 minutes from time and then cleared off the line during a grandstand finish, with captain Harry Kane stretching to turn home Ben Chilwell's free-kick to in the 85th minute to snatch a 2-1 win.
Victory sent Wembley wild and England into the Nations League Finals next year – the icing on the cake, having this year matched the country's best-ever World Cup display on foreign soil and secured a thrilling 3-2 win in Spain last month.
Asked if he could have envisaged 2018 panning out so well, England manager Southgate said: "No, I don't think so.
"I am hugely proud of all the players and all of the staff because we've grown together, we've improved every step.
"I think today was another big occasion, big experience. Plenty of pressure on the game, expectation, but they coped with it really well.
"I thought we played so well in the first half and had good chances, should have been ahead in the game. Then had to show another side, the resilience and the character to stay in it.
"We had a five, 10-minute period after Croatia scored where there was a couple of counter-attacks, and then we may be a new England but we score from a long throw and a wide free-kick, so maybe nothing changes!
"But the most pleasing thing of all for me is the connection with the fans because I've not heard Wembley like that for years.
"We've given our supporters some really memorable days and nights this year and we want to continue that and build on it because the energy that came back to the team in those difficult moments helped us to get over the line today."
England's win sees them top Group A4 ahead of swashbuckling Spain and World Cup finalists Croatia, whose late collapse at Wembley saw them relegated from the top tier of the Nations League.
It was the perfect end to 2018 for an England side that now looks forward to an exciting year, with Euro 2020 qualification kicking off in March before a semi-final and potential shot at silverware in the Finals to be held in Portugal.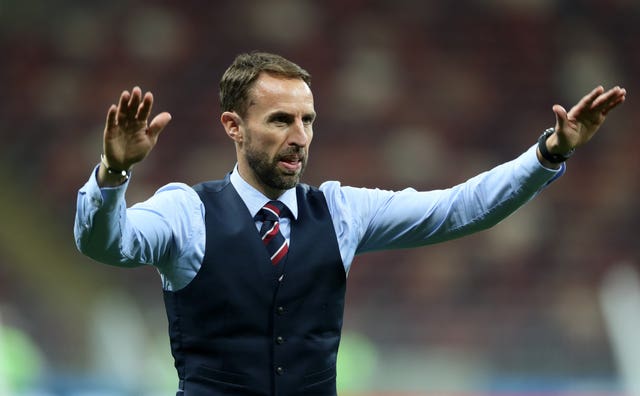 "This was a great opportunity to really test ourselves against top teams, so we now have more opportunities to excite our supporters and connect them with the team. Next year looks like a really exciting year to look forward to.
"I go back to that atmosphere today – it was fantastic. If Wembley can be like that over the next couple of years, we're going to have some significant games here that our fans are going to play as huge a part in winning as the quality of the team is."