Graeme Swann claims Moeen Ali's reluctance to be recognised as a frontline spinner will hinder England's attempts to become the best Test side in the world.
England wrapped up their first Test series victory in Sri Lanka since 2001 over the weekend and Moeen has been an instrumental presence on the island as part of a spin trio alongside Jack Leach and Adil Rashid.
Moeen's status as an all-rounder means his role has been fluid since his emergence on to the international scene but his 159 Test wickets leave him behind only Jim Laker and Swann among English off-spinners.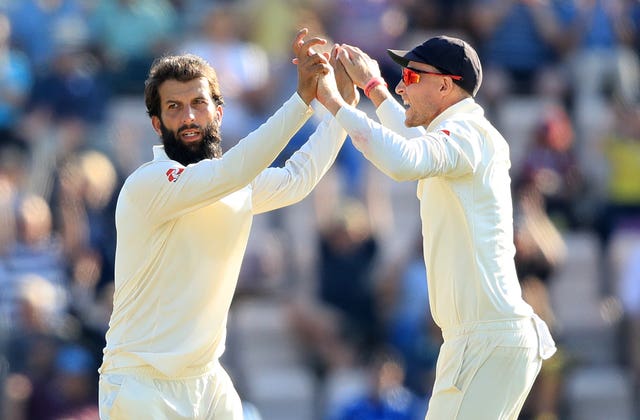 Swann told Press Association Sport: "Moeen is an out and out Test bowler and he has been for years. This is what annoys me about him: that he still doesn't consider himself as a bowler.
"England will be weaker as a team and won't be able to be best in the world until they snap that out of him and get him to believe in himself.
"It's time someone sat him down and gave him a good shake by the shoulders, get a psychologist in there and say 'you're a world-class off-spinner, go and do it every game for goodness' sake'."
Swann has been impressed with the stability Leach has provided in Sri Lanka, with the slow left armer bagging his maiden international five-wicket haul to usher England to victory in the second Test in Kandy.
Swann said: "I think Jack Leach was the stand out bowler because he was the consistent one they went to to bowl the most overs.
"Jack is a better bowler (than Moeen) and believes in himself more. He's Mr Consistent."
Swann was reluctant to label England as the finished article despite their success over a transitioning Sri Lanka side that have had some star names retire in recent years.
"I think there are still three or four spots massively up for grabs.
"It's not a great England team yet, if there were no gaps to fill then England would be the best team in the world with the talent that they've got but I still think there's some glaring holes at the minute."
Swann was speaking in Leicester to promote the England and Wales Cricket Board's announcement of £1.2million funding from Sport England to develop a network of 2,000 South Asian female mentors.
The ECB's desire to expand the female coaching network to develop the next generation of cricketers was one of the measures outlined in its South Asian Action Plan which was launched in May.
Swann added: "It's a great initiative and this £1.2million they've been given to try to encourage female role models in the South Asian community is a great idea.
"England Women are world champions and semi-finalists in the World Twenty20 and getting role models for these kids to look up to is very important.
"If they do things right in this country you could argue that England Women are going to be world champions for the next 50 years."