Jonny Bairstow is not ready to give up his wicketkeeping aspirations but will throw himself into any role that gets him back in England's Test team.
Bairstow arrived in Sri Lanka as undisputed first-choice gloveman only for an untimely ankle injury to open the door for Ben Foakes in Galle.
The Surrey man took it in style, scoring a debut century and producing an effortlessly smooth performance behind the stumps which saw Bairstow overlooked for the series-clinching win in Kandy despite being passed fit.
Head coach Trevor Bayliss has already suggested Foakes can expect an extended run in the team but Bairstow, having worked tirelessly to improve his keeping in recent years, is not going to meekly stand aside from a role he treasures.
"You don't want to accept that, do you? You don't know what's round the corner, so I'm working on both my primary skills, like I have done over the last three years," he said.
"It was only three Tests ago I was in the top 10 batters in the world and then you're not playing. But if we want to push each other, and push other teams around the world, then that competition is really good for us, because we're going to be striving to be better, striving to score more runs, striving to be a better keeper, to take better catches.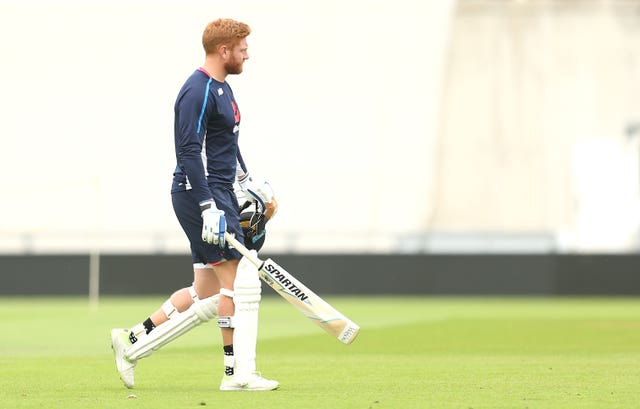 "You react by going away, working hard, training hard and doing the right things around the guys, because you don't want to be going around sulking, not helping the lads out."
In the short term, Bairstow's best chance of returning to the team is as a top-order specialist. He already plays a similar role in the one-day side and has played 18 of his 59 Tests as a non-keeping batsman.
There has been speculation he could find a home in the problem position of number three, which has already been filled by Joe Root, Moeen Ali and Ben Stokes this year.
Bairstow does not appear to covet the spot but is a flexible cricketer who has answered several different calls over the years.
"We've got to cross that bridge when we come to it. But in all of the challenges that have been out in front of me, I'd like to think I've recognised them and hopefully combated them in many ways," he said.
"Whatever the circumstances, it's not something I've done a massive amount of, but coming in against the second new ball, you're doing the same thing there. I might just have to leave a few more balls."
That he is debating how and where he might slot back into the team on Friday in Colombo is something of a triumph in itself. He is already considerably ahead of schedule in terms of fitness, and admits he briefly feared an even more serious lay-off.
"I thought I'd broken my ankle," he admitted.
"I've not told everyone how bad I did it. Everything goes through your mind in those two or three minutes. You don't know the extent of things when you do them straightaway. To be back fit ahead of the second Test, and to be available for that game, was good going."