England's visit to Kosovo in the Euro 2020 qualifiers will be "the biggest event in the history of football" in the Balkan republic, their coach Bernard Challandes said after Sunday's draw.
The Three Lions enjoyed a kind route to the World Cup's last four in Russia in the summer and their luck held in Dublin where they were given a relatively easy path to the next European Championship.
England's success in the Nations League this autumn has given them the safety net of a guaranteed play-off spot but they will have to play very badly to need it after being drawn with the Czech Republic, Bulgaria, Montenegro and Kosovo.
England have never played Kosovo, though, as UEFA's newest member association has only been an independent nation since 2008.
"When England come to Pristina it will be the biggest event in the history of football in Kosovo," said Challandes.
"It's not only about football, it's for the pride of the country.
"Our stadium is unfortunately small – for our last match against Azerbaijan we had 200,000 requests for tickets, but the capacity is only 13,000. The demand for tickets when England come will be huge and it will be an incredible atmosphere."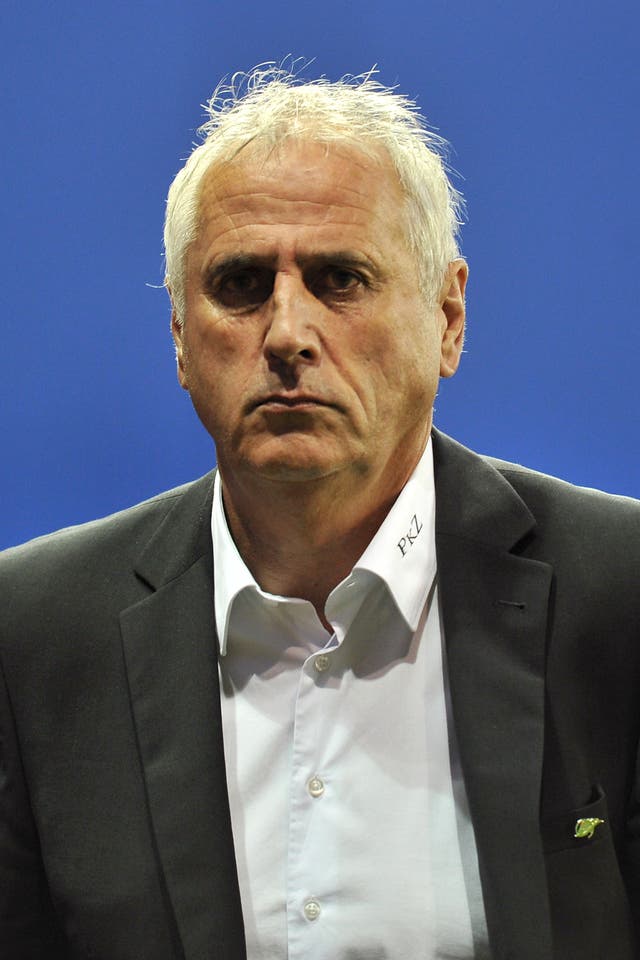 That was also Montenegro coach Ljubisa Tumbakovic's take, who said England "are the absolute favourites of the group".
His side, though, could present Gareth Southgate's side with their toughest challenge. In former Manchester City forward Stevan Jovetic they possess a genuine goal threat and they have drawn three of their four games against England, including twice in the Euro 2012 qualifiers.
Tumbakovic suggested the current Montenegro side is not quite as good as that one was but he is still optimistic of qualification – behind England.
"For the second position, which will lead to the Euros, all four teams in our group are more or less competitive," he said.
That would appear to be the approach for Scotland and Wales, too, as they face at least one leading nation in their groups but will be hopeful they can finish as the best of the rest.
For Scotland, the challenge is Belgium, Russia, Cyprus, Kazakhstan and San Marino. Wales face Croatia, Slovakia, Hungary and Azerbaijan.
Asked if this means his side are playing for second, Scotland boss Alex McLeish said: "Yes, that would be the normal thinking, but Belgium have got to come to Glasgow and they'll hopefully get a tougher game than last time – we've improved since then."
That was in September, when Belgium won 4-0 thanks to what McLeish described as "four breakaways that maybe we can arrest next time".
Like England, Scotland have also earned a guaranteed play-off place but McLeish said: "We would like to qualify via the group process and I'm confident in the group of players we've got – we've got a fighting chance."
Wales boss Ryan Giggs was pleased his side were drawn in one of the five groups of five teams but said they must "climb the mountain again" to reach only their second European Championship finals, having made the last four in 2016.
"Croatia will go into it as favourites but for the rest of us it's going to be really competitive and, with the long trip to Azerbaijan, it's not going to be easy, but it never is," he said.
Northern Ireland manager Michael O'Neill will consider that to be something of an understatement after his team were drawn against Holland, Germany, Estonia and Belarus.
Germany's recent struggles dropped them into the second pot of seeds but few expect the four-time world and three-time European champions to dwell there for long. And any group containing them was always going to get the 'group of death' tag.
"It's probably the most difficult group," admitted O'Neill.
"Germany and Holland, rejuvenated since Ronald Koeman came in, are obviously going to be huge tests and we have to aspire to take maximum points off Belarus and Estonia to give ourselves a chance.
"But home form is going to be crucial. We're going to have to have a couple of massive nights in Belfast to give ourselves a chance of qualification."
The Republic of Ireland – who only missed out on being drawn alongside the Dutch and the Germans because of their status as one of the host countries – are instead in Group D with Switzerland, Denmark, Georgia and Gibraltar.