New Southampton boss Ralph Hasenhuttl intends to make a name for himself by guiding the club to Premier League safety.
The 51-year-old Austrian has replaced Mark Hughes, who was sacked on Monday, on a two-and-a-half-year deal.
Hasenhuttl has now officially taken charge following the 3-1 defeat against Tottenham at Wembley on Wednesday night.
The former Ingolstadt and RB Leipzig coach, the first Austrian to manage in the Premier League, believes he can make an impact at St Mary's.
"It's a big challenge, but also the logical next step in my career. My goal is to get my name known here in the Premier League," Hasenhuttl said.
"When I left Leipzig I was thinking about my next step, and I want to stand in front of a new team, new language, to get developed personally and in my view of football. That's why I made the decision to come to Southampton."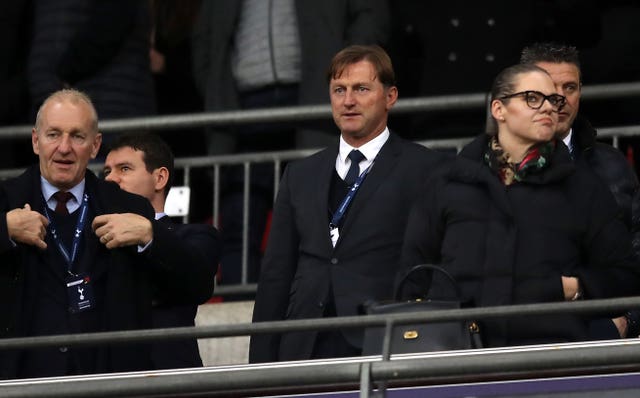 He added: "I want to put my footsteps in the snow here. It's a bit back to the roots for me.
"Last year I had a fantastic Champions League team, we were on a very high technical level. The step is not the easiest one, but I never want it easy in my life. I always challenge myself.
"I'm looking forward, not afraid of anything."
The Saints parted company with Hughes on Monday and, after losing to Spurs, have only one victory from their 15 Premier League games and sit 18th in the table.
But Hasenhuttl is ready for the challenges ahead.
"The first target is to get out of relegation zone. The near future has to be move as quickly as we can out of the (relegation) zone," the Austrian said.
"We have a lot of games and my football is all about training sessions, working on habits. If you have the chance to do so, it's okay, but if you don't it's not so easy."
Hasenhuttl will be supported at Southampton by existing first-team assistant coach Kelvin Davis, who was in charge of the team against Tottenham, as well as head of goalkeeping Dave Watson and head of sports science Alek Gross.
The new Saints boss is determined to improve the squad through hard work, rather than just wait for the January transfer window to open.
"I want to bring them to their limits. I don't know where their limits are. If they like to go this way with us, they are invited. It will be a hard-working way," Hasenhuttl said.
"When everyone is pushing limits to a higher level we can see how far it gets and, when someone says it's too much running or too much work, for me he will fall beside us. That's how I want to work until January."