UK Sport has told the government Team GB could top the medal tables at the 2032 Games if it was given £3billion to invest in the nation's Olympic and Paralympic athletes.
Set up in 1997 to channel public funding to the nation's best athletes, UK Sport has presided over Team GB's rise from 36th in the medal table in 1996 to second at Rio 2016, while ParalympicsGB has finished second in the medal tally at the last three Games.
Its budget, which comes from the public purse and National Lottery proceeds, is set by the government every four years and, in the current 'Tokyo 2020' cycle, the agency has invested £550million in the high-performance system.
Speaking to Press Association Sport, Grainger said: "We couldn't do it over one four-year cycle – realistically, it would take three Olympic cycles, with the investment of £1billion each time, but the experts say it's possible."
The former GB rower, who finally won Olympic gold in 2012 after finishing second at three straight Games, explained that the top spot ambition was similar to her own journey as an athlete.
"It took me and my sport a long time to get to the podium – to get into the top three was a big step," the 43-year-old said.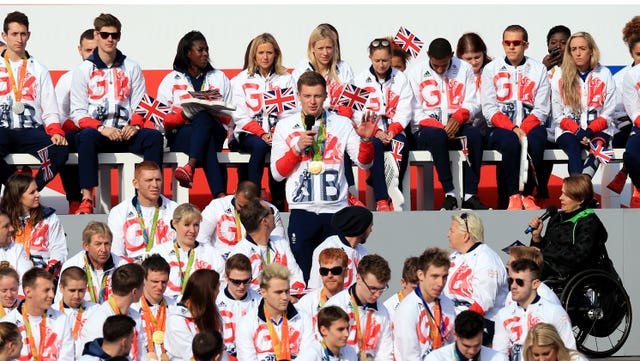 "It would take a huge strategic investment and up to 12 years to do it because you'd be bringing in sports that at the moment aren't able to medal. But we've got expertise in the system, we've got the right athletes, and we're certainly saying it's possible."
Team GB won 27 gold medals in Rio, one more than China, which has 20 times as many people to choose from, and 19 fewer medals than the top-ranked United States, a richer country, with five times the population.
Asked if these statistics – not to mention the size, sporting traditions and wealth of nations such as Germany, Japan and Russia – suggested UK Sport's target was a gamble for a nation distracted by Brexit, Grainger acknowledged the point but said she was confident it could be done.
"When you're aiming to be the best on the planet, it should feel ambitious, it should feel risky," she said.
"But 20 years ago, when we were preparing for Sydney, the previous Games we had been 36th in the medal table, so we would never have thought top 10 would be possible, and then we're top five and then we finish second."
Grainger, however, did admit that asking for £3billion, even over three Olympic cycles, was just one of the options they have set out, with the others being a similar amount of money, which UK Sport believes would keep Team GB in the medal table's top five, and a 20 per cent cut, which it says would see Team GB fall out of the top 10.
Privately, Grainger and her colleagues at UK Sport probably know that they are unlikely to see their budget doubled for Paris 2024, but they are quietly confident that they have proven that they can deliver medals, those medals do lift the public mood and inspire people to engage with sport, and that investing in Olympics and Paralympics is relatively good value.
"It's our responsibility to explain that it's too simplistic to say 'that medal cost that much money'," she explained.
"It doesn't do justice to the impact that medal can have but it's up to us make sure the social impact of that medal is as wide and deep as it can be, so the investment really can have a transformational effect. Otherwise, yes, it's very hard to justify the money."
Whatever number UK Sport does get from the government later this year, the agency has already decided to tweak the strategy that has served it so well, in terms of medals, over the last 20 years.
Following a public consultation, which attracted nearly 5,000 contributions, UK Sport will move away from what was often dubbed a 'no compromise' approach to picking winners to what it has described as a "more agile and flexible" approach.
This means there will now be three tiers of funding: 'podium' for sports with medal potential at the next Games, a 'podium potential' pot for athletes and sports with a medal shot within two Games, and a new 'progression' fund for those more than two cycles away from success.
The latter will delight the likes of badminton and basketball, sports that have found their funding cut to zero in the past, and the changes should enable a more joined-up approach with the national sports councils' grassroots investments and commercial match-funding.