England full-back Freddie Steward has been cleared to play after his red card in Saturday's Six Nations defeat by Ireland was overturned.
Steward appeared before a virtual disciplinary hearing on Tuesday night for a dangerous challenge to the head of Hugo Keenan that ended the full-back's afternoon at the Aviva Stadium.
However, while it was decided the tackle was an act of foul play, the panel felt there were sufficient mitigating circumstances to view it as a yellow card offence only.
England's frustration at the onfield decision by referee Jaco Peyper will have only have increased knowing that Steward should have only sat out just 10 minutes of the game rather than the entire second-half.
Steve Borthwick's men showed resolve in the face of the Leicester full-back's dismissal, which drew an incredulous "Red card?!" response from Owen Farrell, before being over-run 29-16.
But the hearing noted in its statement that "match officials are required to make decisions under pressure and in the heat of a live match environment".
Peyper's original decision divided opinion as rugby's governing bodies continue their crackdown on dangerous play, especially any involving the head, in the face of concussion lawsuits.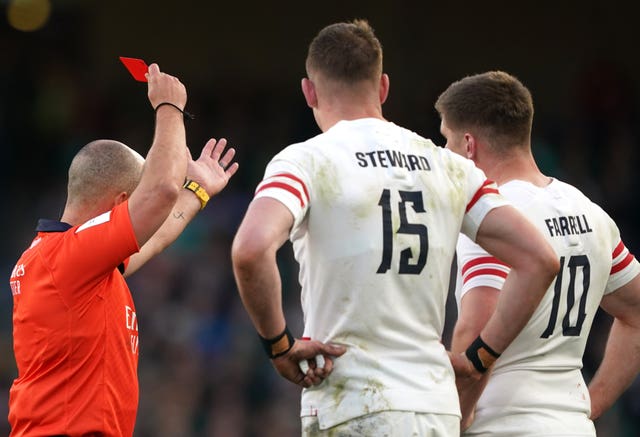 Steward's elbow inadvertently connected with Keenan's head in an accidental collision between the full-backs in first-half overtime.
As Keenan stooped to pick up the ball, Steward turned his body and although his arm was tucked into his side, his elbow stuck Keenan, who as a result failed an HIA.
Peyper worked through the head-contact protocols to arrive at his decision, with the contention arising over his refusal to consider any mitigating factors, but the hearing took a different view.
Steward's initial charge of 'a player must not tackle an opponent early, late or dangerously' was changed by the hearing to 'players must not do anything that is reckless or dangerous to others'.
The 22-year-old, one of England's few strong performers in the Six Nations, told the hearing he should not have been sent off.
In response, the committee found that head contact had occurred, there had been an act of foul play and that Steward had been reckless "in his actions and in his upright positioning as he approached and came into highly dangerous contact with the other player".
Crucially, the panel also saw enough mitigating factors including "the late change in the dynamics and positioning of the opposing player" which should have seen Peyper produce a yellow rather than red card.
Steward is available for selection by Leicester as early as Saturday's home clash with Bristol, while England are left to nurse their sense of grievance over a crucial call made in Dublin.
Former Lions and Wales captain Sam Warburton believes rescinding the red card was the right outcome from the three-man hearing.
"I don't blame Jaco Peyper, he's probably thinking, 'I'm damned if I do and damned if I don't'. He was doing what he thought was right at time.
"Steward had to protect himself. It was purely accidental and while we want to avoid head contact that was a rugby incident with very little time to respond.
"There will always be accidental collisions. Rugby can be made safer, but it will never be perfectly safe. That's something we have to accept.
"You can't have large men running around aggressively and the game being perfectly safe. Rugby will never be whiter than white."