Manchester City manager Gareth Taylor has stressed the importance of "taking maximum points" ahead of a huge top-of-the-table clash against defending champions Chelsea in the Women's Super League.
City are currently third in the table, two places and two points behind the Blues, who sit at the top of the summit.
Neither side has lost a WSL game since September last year and City's last league loss came against Chelsea at Kingsmeadow.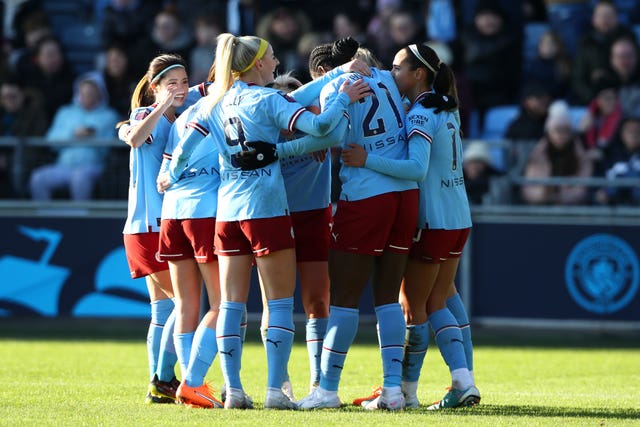 "We know the importance of the game, we worked so hard to get ourselves into this position," the City boss told a pre-match press conference.
"Obviously, it's a tough opponent in front of us. An opponent that had a successful result away at the European champions in midweek, so we understand the challenge in front of us.
"But we are confident in what we do in terms of imposing ourselves on the game.
"But we also know it's really important for us to take maximum points from this game. It's a really important one for us to win to be able to continue in our challenge this season.
"Chelsea can go to 61 if they win all their games. So it just goes to show, if we win this game at the weekend nothing changes, we have to win the one after and the one after that.
"The margins are so tight. We've lost two games this season, two draws. Arsenal have done that, (second-placed) Manchester United have done that.
"Chelsea are the only ones who have only dropped five points, so it's so tight. You've got to win all your games, it's as simple as that."
Sunday caps off "Women's Football Weekend" and other fixtures include bottom-of-the-table Leicester facing a tricky test against an in-form Aston Villa side, who are currently on a seven-game unbeaten run in all competitions.
The fight for survival at the bottom of the table sees second-bottom Brighton travel to Reading in the other fixture on Sunday and Chelsea manager Emma Hayes believes the Women's Football Weekend has been "a real hit".
She told a press conference: "Women's Football Weekend I think is becoming a staple on the calendar and to think so many games are being played across the country able to be accessed by football fans up and down.
"I think having these weekends in men's international breaks has been a real hit in the WSL and we're looking forward to build on the previous women's football weekends and looking forward to hopefully see record numbers come out."