Cambridge's men and women secured double Boat Race glory over Oxford on a dominant afternoon for the Light Blues.
After the women's team had claimed their sixth successive victory earlier in the day, Cambridge's men took the honours later on to complete the double over their rivals in the traditional university race.
With no Olympians in this year's edition it felt like one of the purest men's races in recent memory as Oxford looked to defend their 2022 title, while Cambridge hoped to make it four wins in the last five.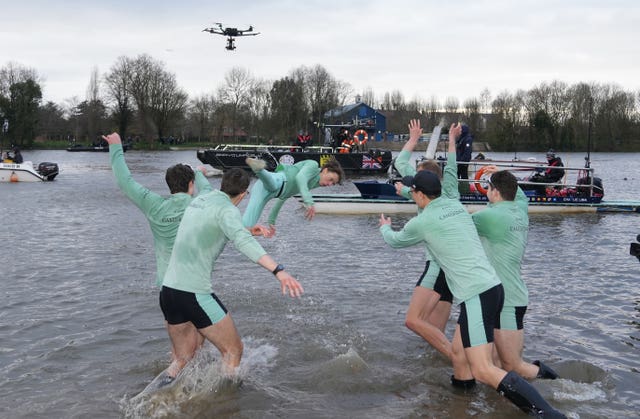 Both boats earned early warnings from umpire Tony Reynolds as pre-race bookmakers' favourites Oxford with the weight advantage, pulled ahead.
While each crew boasted men with previous blue boat experience, only Cambridge featured two 2022 returnees in Luca Ferraro, who made the switch from bow to stroke, and captain Ollie Parish in the seven-seat.
Parish's coxswain brother Jasper won with the women last year and this time joined his brother in Light Blue boat.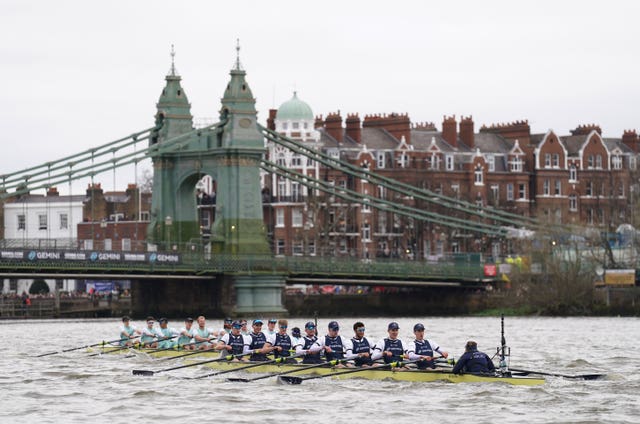 It turned out to be an inspired decision, allowing the Light Blues boat to take a half-length's lead, and while Oxford would not let their opponents get away, their bow often drawing level with their rivals' stern but unable to gain considerable ground as Cambridge carried their advantage over the finishing line.
There was cause for concern for Oxford when stroke Felix Drinkall appeared to collapse in the boat and was quickly attended by the medical team, with the rower being taken to hospital.
Fears were allayed by Boat Race officials on Sunday evening, however, via a short statement which read: "Two Oxford University Boat Club athletes received medical attention following today's men's race.
"We are pleased to confirm that both are doing well and we would like to thank the RNLI, St John's Ambulance and the London Ambulance service."
Both blue boats broke records in 2022, Cambridge edging out their competition by 2 1/4 lengths, yet with Cambridge president Caoimhe Dempsey the only returnee for either university and no Olympians in either crew for 2023 it was bound to be a different race.
Cambridge were the heavy favourites again and chose Surrey Station after winning the coin toss, but it was Oxford who got out to an early lead in the blustery conditions.
The defending champions quickly clawed back Oxford's advantage and were soon back in control of their own destiny, though things got interesting at Hammersmith Bridge, umpire Matt Smith issuing a strong warning as the boats pulled dangerously close and Oxford threatened to bump their opponents.
Cambridge steered clear and by the halfway point were well ahead and Smith had put his flags away as Cambridge battled their way through the choppy waters and to victory.
Cambridge women's president Caoimhe Dempsey told BBC Sport: "I genuinely haven't caught my breath. That was just such a whirlwind of a race, there was so much going on, the conditions changed so much from start to finish.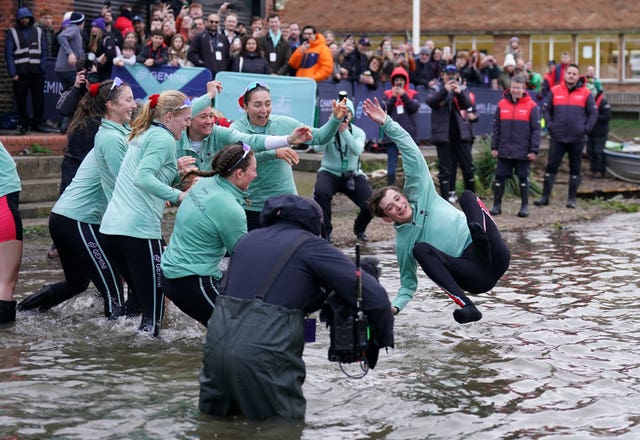 "They're just so tenacious and strong and brave and full credit to Oxford, they raced an amazing race, they really didn't let us go and they had an amazing start. They could handle the conditions so well. It's just such an amazing thing to be a part of."