Max Verstappen called the bizarre conclusion to Sunday's Australian Grand Prix a "confusing mess" and accused Formula One's stewards of bringing the chaos on themselves.
Verstappen survived the mayhem to take his second victory from the opening three races and extend his championship lead over team-mate Sergio Perez to 15 points.
Lewis Hamilton finished second to claim both his and Mercedes' first podium of the year, with Fernando Alonso third for Aston Martin. Perez drove back from last to fifth, while George Russell retired with an engine failure.
Verstappen's first triumph on Melbourne soil was placed in danger on lap 54 of 58 when Kevin Magnussen's right-rear tyre flew off his Haas after he smashed into the Albert Park wall.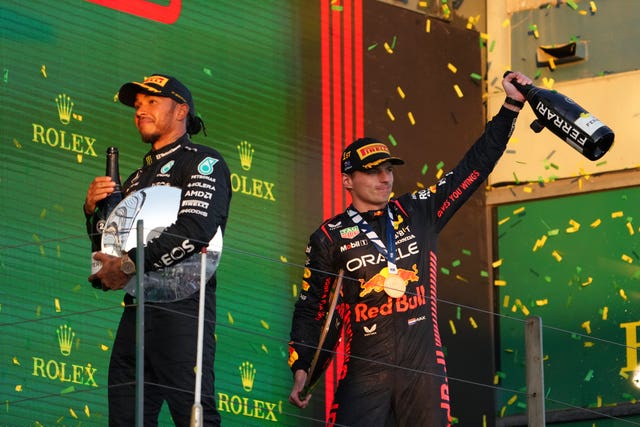 Magnussen's accident enabled a two-lap shootout, but the restart lasted only a couple of corners after Alonso was sent spinning by Ferrari's Carlos Sainz and Alpine team-mates' Pierre Gasly and Esteban Ocon collided.
Nyck de Vries and Logan Sargeant also ended up in the gravel, with Perez cutting across the grass and Stroll running through the sandtrap, too.
The race was red-flagged for a third time. A bamboozling 33-minute delay followed as the sport's governing body the FIA rooted through its rulebook.
The order of the previous start was taken up – handing a reprieve to Alonso, Stroll and Perez. But with only one lap remaining, Verstappen followed the safety car home in a procession to the chequered flag.
Sainz was also hit with a five-second penalty, dropping him from fourth to 12th and last of those who made it to the flag of a race which ran to two hours and 35 minutes.
"I am very happy to have won, but the race towards the end was a bit of a mess," said Verstappen.
"I don't think we needed that second red flag. That could have been conducted under a virtual safety car period or, at worst, upgraded to a full safety car.
"It left a lot of drivers confused. If we had a normal rolling start we would not have had all these shunts and we would have had a normal finish. So, they created the problems themselves."
The hat-trick of stoppages – which resulted in one hour and four minutes of delays – led some to question whether the drama was being created to appease the sport's Netflix generation, such has been the success of the Drive to Survive series.
"I thought the first red flag was totally unnecessary," said Russell. "I don't really know what's going on with some of the decisions at the moment.
"We're all trying to work together with the FIA to improve things but it's seemingly a bit of a challenge."
A bizarre end followed a wild start which saw both Russell and Hamilton gazump pole-sitter Verstappen on the opening lap, while Charles Leclerc beached his Ferrari following contact with Stroll.
Hamilton moved up from second to first but his defence for the lead lasted only three-and-a-half laps before Verstappen's DRS-assisted Red Bull sailed past after a dozen laps.
Nevertheless, the 38-year-old was pleased to have upgraded on his fifth places at the opening rounds in Bahrain and Saudi Arabia.
"I did not expect to be second so I am super grateful for it," said the Mercedes driver.
"We have to keep pushing. We can close that gap to Red Bull. It is going to be tough, but not impossible."