Fulham striker Aleksandar Mitrovic has been handed an eight-game ban for his sending-off against Manchester United, but the Football Association feels the punishment is too lenient and intends to appeal.
The 28-year-old Serbia international was given the lengthy suspension after he was dismissed during the Cottagers' FA Cup clash last month after grabbing referee Chris Kavanagh.
Mitrovic received a standard three-match ban, but that has been extended by three games for violent conduct towards a match official and another two matches added for using language that was "improper, abusive, insulting and threatening".
He admitted the latter offence, which also came with a £75,000 fine, but unsuccessfully disputed the charge of violent conduct. Having already missed one game, he will now be unavailable for Fulham's next seven matches.
Manager Marco Silva, whose own dismissal alongside that of Willian led to Mitrovic's angry reaction, was also punished by the independent regulatory commission.
Silva admitted using abusive and insulting words or behaviour towards Kavanagh and the fourth official but denied throwing a water bottle towards the assistant referee.
The charge was nevertheless upheld, with a £20,000 fine and another of the same amount coming due to questioning the integrity of the referee during his post-match press conference. He was also hit with a two-game touchline ban.
A further £40,000 penalty was issued against the Cottagers for failing to control their players.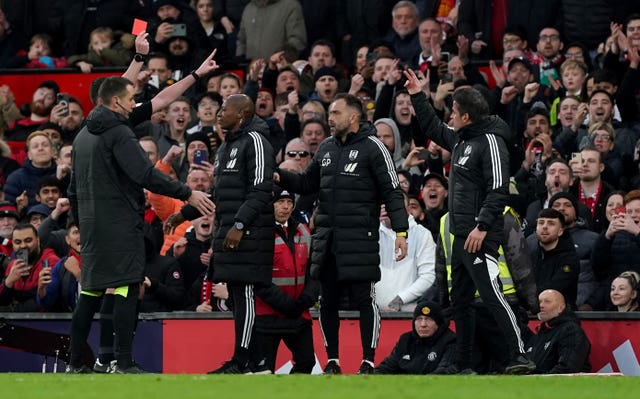 An FA statement read: "We note the decision of the independent regulatory commission to sanction Aleksandar Mitrovic and Marco Silva.
"Our current intention is to appeal both sanctions, however we will await the written reasons before confirming our final position."
Mitrovic is Fulham's top scorer with 12 goals this season – seven more than his nearest challenger – and his absence comes with the team sitting in 10th place.
He will not been seen again until the final three games of the season.
Silva's press conference quotes hinted at a lingering dissatisfaction with Kavanagh.
He said: "Our story with Chris Kavanagh this season has been really tough as a football club. Of course in all moments we should control the emotions, but we are human beings."
Mitrovic subsequently issued an apology for his exploits, saying: "I regret my actions that led to me being sent off. I allowed my frustration to get the better of me and how I reacted was wrong.
"I was trying to get the referee's attention, but I appreciate that I should not have put my hands on him and I understand why he showed me a red card, my first in-game sending off for Fulham and my first since the 2015-16 season."
Silva also issued an apology and admitted he should have handled "a very difficult moment" better after he was separately charged for comments made about Kavanagh, after his side lost their cool at Old Trafford.
He said: "I regret what happened and I have spoken to Chris Kavanagh to apologise.
"He knows that I respect him and the job he has to do. Unfortunately, we did not see eye-to-eye on the day, but I recognise that he is one of the top referees in this country and I know that, when our paths cross again, there will be mutual respect between us.
"I am sorry that I was not on the pitch to try to lead the team to what could have been an historic FA Cup semi-final at Wembley, but I am thankful for all the support I have received from Fulham fans over the last few days."