Cristian Stellini has hit back at critics of Harry Kane and insisted they lack respect for Tottenham.
Kane faced a backlash for his part in Abdoulaye Doucoure's sending off in Monday's 1-1 draw at Everton.
Doucoure pushed his hand into the face of England captain Kane, whose exaggerated reaction saw him ridiculed on social media and Sky Sports pundit Jamie Carragher stated he would be "embarrassed" if he acted like the forward.
But ahead of Saturday's visit of sixth-placed Brighton, Stellini said: "I think it's strange that some ex-players said some things I think are wrong about Harry.
"They're ex-players and they understand the difference between seeing a situation like this in slow motion and living this experience in real time. It's completely different.
"Everton's manager (Sean Dyche) said it's a clear red card, so there's no discussion about this. I don't understand why some player spoke about this.
"I think they don't agree with Tottenham, instead of not agreeing with Harry. I think they respect Harry but probably they don't respect Tottenham enough."
Kane scored his 24th goal of the season at Goodison Park whilst being booed and called a cheat.
"I have never seen him exaggerate something," Stellini insisted.
"I have seen him stand up after a strong tackle and we have a lot of examples. Also we spoke with the board of referees (earlier this season) about some of the tackles Harry received are really bad.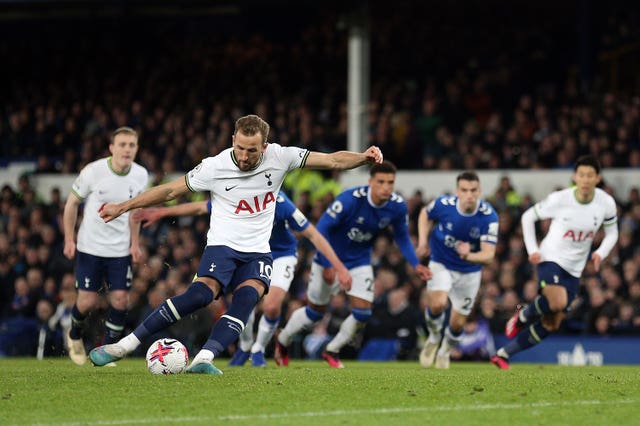 "He's an amazing player in every aspect, also in the behaviour he has and the respect he has. He respects the game a lot. It's important to say this and everyone has to understand that they cannot challenge Harry on this aspect."
The onus will remain on Kane to score the goals for fifth-placed Tottenham this weekend against Brighton with Son Heung-min and Dejan Kulusevski both out of form while Richarlison remains sidelined with a muscle issue.
He has returned to training individually and could be back for the clash with Bournemouth on April 15 but for now Stellini will be reliant on Arnaut Danjuma and some academy graduates.
Stellini added: "We are getting closer with Richarlison. He trained on the pitch but he trained alone. For the next game he could be available.
"Yeah if we need (young players) them, we will use them. We have some good players that are ready to play, also in the Premier League.
"We have Alfie Devine, Romaine Mundle, we have players that we trust in them to play a part of the match or a match in the Premier League."