Duncan Scott believes there are few people who can appreciate the pressures on Adam Peaty after the triple Olympic champion revealed he was struggling with his mental health.
Peaty would have been a star attraction at this week's British Swimming Championships but he withdrew, saying on social media he was "tired" and "not enjoying the sport" as he had done for the last decade.
He continues to train and still has his sights set on Paris 2024, where he can emulate only Michael Phelps among men by winning a third successive title in the pool in the men's 100 metres breaststroke.
But stepping out of the limelight now may be beneficial in the long run, according to Team GB team-mate Scott, who has won silver alongside Peaty in the men's 4x100m medley relay at the last two Olympics.
"I'm not sure there's many people in Britain or the world who can understand what he's been through," said Scott, who is competing at the national trials in Sheffield this week.
"What he's done is history-making and I'd imagine the external pressures but also the internal driver is pretty exhausting. I'd imagine it's a massive relief. It's probably just getting it out there.
"He's got so many people that follow him, he doesn't want to let them down. The cameras aren't on when we're doing 20 to 25 hours of training a week but they show up when we're ready to perform at our best.
"No one knows what goes into it day-in and day-out, so that's probably taken just a bit of a hit on him and I'm sure a bit of rest and recovery, mentally more than anything, and he'll be back for sure."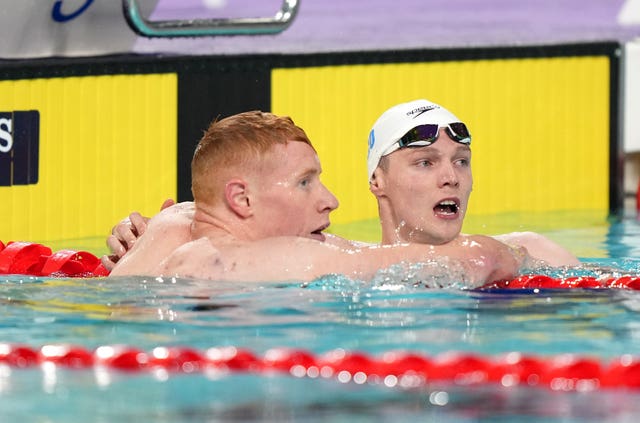 Burras touched home in 47.99 secs while Matthew Richards and Tom Dean, who alongside Scott won men's 4x200m freestyle gold in Tokyo two years ago, finished third and fourth, respectively, in a strong field.
"I know that every single one of them aren't just looking inside Britain, it's how do they perform on an international stage and that's really exciting as well," said Scott ahead of the showpiece.
"Not everyone's got closed tunnel vision on Britain, it's how do we compete internationally which is more important."
Anna Hopkin, an Olympic mixed medley champion, won gold in the women's 50m freestyle in 24.51, almost a second clear of silver medallist Rebecca Guy (25.30) while Eva Okaro (25.36) rounded off the podium.
Daniel Jervis started the night with victory in the men's 1500m, finishing in 14:46.95 which was under the qualification time for the World Championships in Fukuoka later this year.
Charlie Hutchison won the men's 400m individual medley final while Laura Stephens prevailed in the women's 200m butterfly final.