Pep Guardiola has suggested Kyle Walker faces a challenge to win back his place in the Manchester City side as he cannot play in the current system.
Over the last few weeks, Guardiola has preferred John Stones at right-back, pushing forward in an inverted role, and the England defender excelled in last week's 4-1 win over Liverpool as he spent much of the second half alongside and often ahead of Rodri helping to pull the strings.
But Guardiola admitted that is not a role Walker, 32, is suited to, presenting the England right-back with a problem.
"He has played as a full-back coming inside in the past with four in the back with Joao (Cancelo) or Aleks (Zinchenko) in that position and Kyle has done it really well, but with this shape of three in the back and two in the middle he cannot do it…
"He can play coming inside and he has done it many times but like in the position (against) Liverpool with Rodri and John, he will maybe need time to do it and we don't have time."
Walker has suffered following the surprise exit for Cancelo to Bayern Munich in January. When Cancelo was the one to invert, Walker was the obvious choice on the right side of what became a three at the back.
But with Nathan Ake now most often playing at left-back, Guardiola is looking to the right-back to be the one to come inside.
Asked what Walker needed to do to earn his place back, Guardiola added: "Be himself. Train good, he can play in the three, three at the back on the right, and is maybe the best that we have. Sometimes we play with Manu (Akanji) or John. The reason why is tactical. It's not because we lost faith in Kyle."
The performance of Stones against Liverpool would make it difficult for any player to dislodge him, or for Guardiola to be persuaded to change shape again during the Premier League and Champions League run-in, with Southampton up next on Saturday before Bayern Munich visit on Tuesday.
The 28-year-old Stones sometimes struggled when asked to push forward into midfield before, but now looks at home.
"Our shape was completely different when we tried it before and that was maybe why he struggled more," Guardiola said. "Now we practise more, he knows more, our routine is a little better and that's why we can use him.
"It is a new position for him and he has to concentrate all the time. When you play as a central defender or in other position, when you see the game from behind it is completely different to when you are in the middle surrounded. Some movements and patterns are more difficult.
"That's why I appreciate a lot what he has done."
But if there is hope for Walker, it is that Guardiola rarely stays fixed on one idea for too long, and players who find themselves out of the side for a period might become first choice soon after.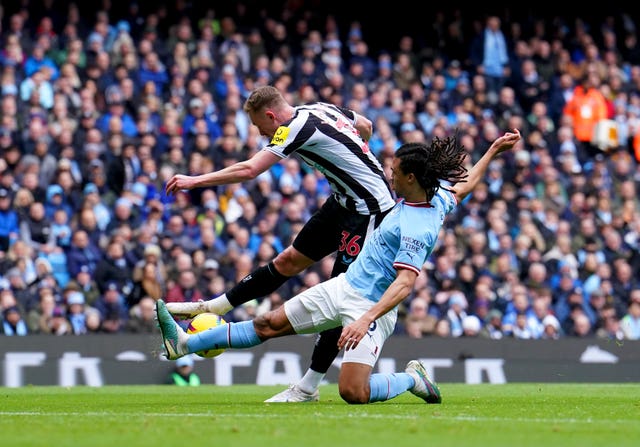 "Look at Nathan (Ake) this season. Last season he didn't play one minute and now he is undroppable. It happens. Nobody has a guarantee with me.
"They have to earn it and sometimes we need a different shape for the way we build up or defend and some players adapt better than the other ones. It's simple. They take it personally but we are not against them, we just need something and try to use it."