Crystal Palace boss Roy Hodgson believes Frank Lampard is the "ideal man" to lead Chelsea through to the end of the season.
Hodgson, 31 years Lampard's senior, was already managing Swedish side Halmstad the year the Blues boss was born, but both men now find themselves in a similar position – tasked with turning around their respective clubs' misfortunes in a short period of time.
Hodgson is convinced Lampard, set to begin his second spell at Stamford Bridge after what some saw as a surprise appointment on Thursday, will be motivated by unfinished business after parting ways with the Blues in January 2021.
"I don't know that it was so crazy to bring Frank back to Chelsea," said Hodgson.
"I think that could be a very wise move because he is very keen to get back into the game, he's a very good manager, a very good football person and a massive Chelsea person as well, so if you're looking for someone to take over the club during a period of instability before you're 100 per cent certain what you want to do, then Frank is the ideal man.
"Because quite frankly, with their position in the table I would guess that Champions League now for them is a little bit of a utopia, and there's no question of them getting relegated, so I don't see any particular reason to question that decision at all, and I'm pleased to see Frank back getting that opportunity."
Chelsea and Palace are separated by just one place in the Premier League table, but the tasks facing their respective caretaker managers are worlds apart, with the south London side still locked in the relegation battle.
Lampard's 11th-placed side sit nine points clear of the 12th-placed Eagles, who face a critical test against 13th-placed Leeds on Sunday, with Hodgson's side still just three points clear of Bournemouth in the drop zone.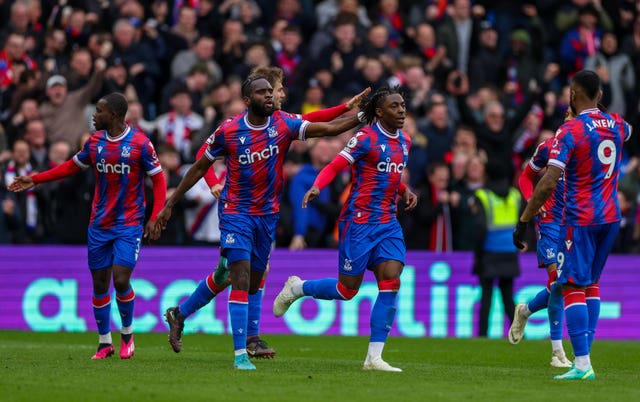 While Hodgson was pleased with that result, he nevertheless warned it was far too soon to start celebrating.
He added: "The fact that you play the game and the players give that type of performance, that really is the icing on the cake. The only thing is that as a manager, coach, you're always concerned that it's a one swallow not making a summer.
"That was a very good start for us, there's no question. I don't want to take anything away from the players' performance but it's one game and it's three points but there's lots more wins we need to get and lots more performances of exactly that calibre. And it's easy for me to say to the players, 'go and produce that same performance again' but not so easy if you're a player to do that."