Boss Frank Lampard eased fears Chelsea will be outgunned by Real Madrid after a 1-0 defeat at Wolves.
Matheus Nunes' first-half stunner downed the visitors as Lampard's return failed to produce a response.
The 44-year-old, back until the end of the season after the sacking of Graham Potter, could not inspire the Blues in his first game in charge since being sacked in January 2021.
He said: "If you are worried don't come. The players shouldn't be. I'm not saying the squad doesn't have that aggression, it's just bringing it together. Wednesday will be a completely different game.
"I'm very happy to be back. We have a huge game waiting for us on Wednesday where everything changes.
"I didn't expect to solve everything in one day. You have to have more aggression in your game, more speed and more competitive duels which go your way.
"The players need to be aware of that because without that you can't win games. It was interesting to see anyway, I'm here to help with that. It's not stinging criticism, I know there's a lot of talent there."
There was little fight from Chelsea in the first half and they did not match Wolves blow-for-blow.
Half chances for Toti Gomes and Mario Lemina came and went before Nunes produced the only serious moment of class to win the game after 31 minutes.
Daniel Podence's cross was touched on by Matheus Cunha and Kalidou Koulibaly only cleared as far as Nunes, who cracked a brilliant angled half-volley across Kepa – his first goal since last summer's £38million move from Sporting Lisbon.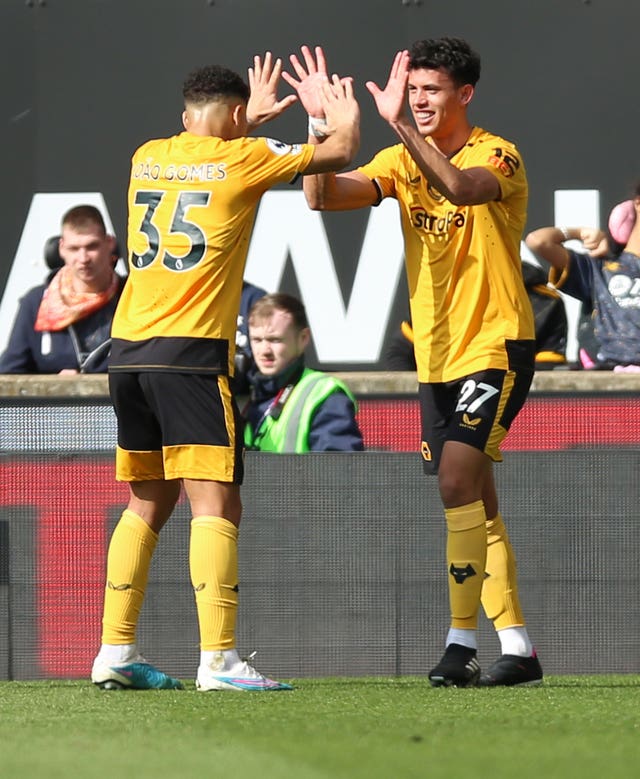 There was nothing to threaten Jose Sa and Wolves could have made it easier had Cunha and Diego Costa not wasted chances on the break.
Victory lifted them to 12th, a place behind Chelsea – albeit eight points behind – and, crucially, four points above the relegation zone.
"The goal is good news for the team, we're happy for Nunes because it's three points, not only the goal but to have three points more means you have done very good work. We're happy for the team to highlight the form the team has shown.
"Each team can beat any team in the Premier League. That's why we have to put the focus in the work we have done.
"I prefer to highlight all the team. We are going to need them to achieve our aim at the end of the season."