Five months on from a successful World Cup, women's rugby league continued to break new ground as a record crowd of over 5,000 watched the rebranded York Valkyrie cruise to a 34-12 victory over Leeds Rhinos in the Betfred Super League opener at Headingley.
Tara-Jane Stanley, one of the star performers in England's campaign that eventually ran aground in the semi-finals, starred with a try and 10 points with the boot, earning them instant revenge against the side who had denied them in last year's Grand Final.
The match marked the first women's game for which payments, in the form of win bonuses, were at stake, and it is a further sign of how far the women's game has advanced that the narrative around both teams continues to be the imminent exodus of their best players to Australia's largely professional NRWL.
Key Rhinos pair Georgia Roche and Fran Goldthorp were absent from the team-sheet amid continuing discussions over their respective moves to Australia, and Rhinos coach Lois Forsell indicated afterwards that Roche is close to sealing a deal to move to the Newcastle Knights.
However, the race to become England's first professional female rugby league player is set to be won by York second-rower Hollie-Mae Dodd, who scored a try on what may have been her final appearance for the Valkyrie prior to an expected move to Canberra Raiders.
"Hollie will go," confirmed York head coach Lindsay Anfield. "She will announce her news when she's ready but we're fully behind her. She played really well today and she's down in the changing rooms getting emotional about the fact she might be going.
"It's absolutely massive for this club. I back any girls who want to go and play over there. Obviously we don't just want to feed the NRL, we want to grow our own product, but why wouldn't players want to go over there and test themselves?"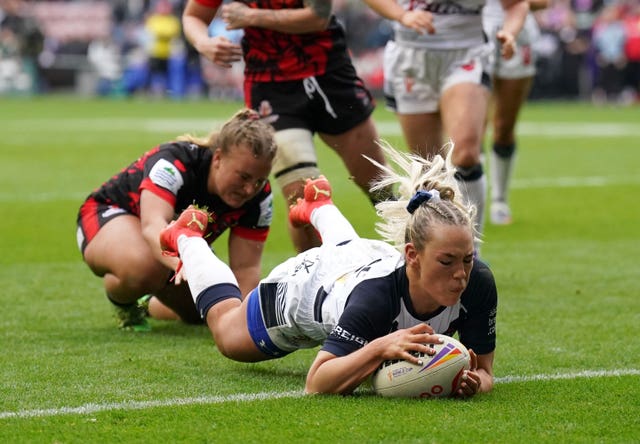 Tamzin Renouf flopped onto a clever grubber from Valkyrie captain Sinead Peach to give her side the lead that was promptly extended by Stanley, whose precision with the boot earned the first of five successful conversions.
Jasmine Bell's yellow card for a high tackle on Zoe Hornby stalled York's early momentum and allowed Leeds to level when Keara Bennett wriggled over from dummy-half before Sam Hulme kicked her first of two conversions.
Stanley sent a long looping pass out wide for Ashleigh Hyde to restore her side's advantage, but Leeds summoned a scintillating response when Eloise Hayward burrowed over after Caitlin Beevers' 40-yard burst was ended inches short of the try line.
Dodd restored York's lead before the interval and after Leeds failed to capitalise on early second-half pressure, the Valkyrie extended their advantage on 50 minutes when Liv Gale darted through a flat-footed home rearguard.
Stanley scorched over in the corner for a try of her own with 15 minutes remaining, and she lifted her personal contribution to 14 points with a late penalty and a conversion to Ellie Hendry's late touchdown as the Valkyrie wrapped up an impressive performance.
"Leeds have got these marquee players with a lot of experience, but we put a lot of work into each individual and they can only continue to improve," added Anfield.
"Hollie will be a big loss when she goes but we have got players coming through who are capable of filling that gap. There were players on the team-sheet today who you might have thought, 'who are they?', but they stood up to be counted and we've got to be proud of that."