Assistant referee Constantine Hatzidakis will not officiate in any matches while he is being investigated for an apparent elbow on Liverpool's Andy Robertson.
The incident occurred just after the half-time whistle had been blown during Liverpool's 2-2 draw with Arsenal on Sunday, with Hatzidakis reacting after being confronted by Robertson.
A statement from Premier League referees' body the PGMOL read: "PGMOL will not be appointing Constantine Hatzidakis to fixtures in any of the competitions it serves whilst the FA (Football Association) investigates the incident involving the assistant referee and Liverpool defender Andrew Robertson at Anfield."
Sky Sports cameras zooming in on the confrontation showed Hatzidakis seemingly throwing up his arm and making contact with Robertson, who gesticulated that he had been hit by the official.
An irate Robertson was led away by team-mates but, while he received a yellow card in the aftermath, it is the action of Hatzidakis that will come under further scrutiny.
Keith Hackett, formerly head of the PGMOL, told BBC Radio Five Live: "Ultimately, if he is found guilty of this, his career is in jeopardy.
"I was trying to find an excuse as to why he did it and I came up with was he in fear? He shouldn't be, because he's in a protected environment with plenty of security.
"But he reacted in a way that he shouldn't have reacted at the end of the day and here we are talking about a match official and not a decision, but an action by a match official – and he's clearly lost his composure."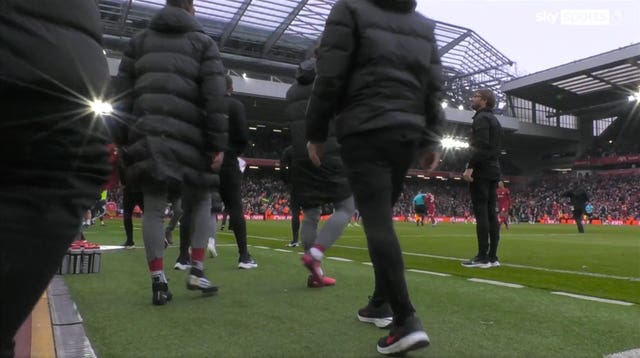 Writing in The Sun, Halsey drew a parallel with Fulham striker Aleksandar Mitrovic, who was recently banned for eight matches for pushing referee Chris Kavanagh.
Halsey said: "To me, it looks like Robertson goes to grab Hatzidakis, who brushes him off with his arm and catches him accidentally.
"I cannot think why an assistant would throw his arms into a player's face. Sure, from one camera angle it does not look good. But you have to ask why has Robertson gone to approach the assistant referee?
"Match officials are the guardians of standards and must be accountable if found guilty for that type of behaviour towards a player."
The PGMOL quickly issued a statement on Sunday, saying: "The PGMOL is aware of an incident involving assistant referee Constantine Hatzidakis and Liverpool defender Andrew Robertson at half-time during the Liverpool v Arsenal fixture at Anfield.
"We will review the matter in full once the game has concluded."
Liverpool boss Jurgen Klopp said he did not see what had happened, but the Sky Sports pundits working on the game reacted with incredulity.
Gary Neville, the former Manchester and England full-back, said: "I've never seen an official raise an elbow to a player. I think he'll be in a lot of trouble after this game ends."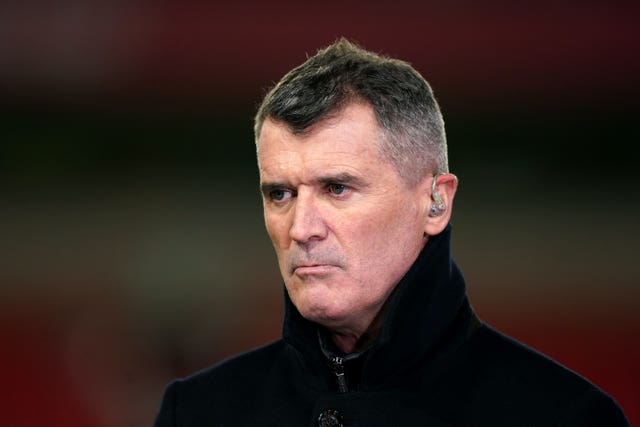 Former Manchester United captain Roy Keane focused on Robertson's role in the incident, calling the Scot "a big baby".
"He should be more worried about his defending," said Keane. "Do you know what he is, that Robertson? I've watched him a number of times, he is a big baby, that's what that guy is.
"Just get on with the game and concentrate on your defending. He does grab the linesman first."
Manchester City boss Pep Guardiola, whose side are fighting Arsenal for the title, did not see the incident but said it would be "weird" if it happened in the way some have described it to him.
He said at his press conference to preview Tuesday's Champions League quarter-final with Bayern Munich: "I heard it but I didn't see it. I was watching Bayern Munich and golf.
"I saw highlights afterwards but I didn't see that. They told me something happened but I didn't see the image, so I cannot comment. But it's weird, if what the people said to me happened."
England international Ella Toone had not seen the incident either but called for "respect" between players and officials.
She said: "Of course it's important that the players respect the officials and the officials respect the players, so whatever happened hopefully it gets sorted out."