Ben Foster has saluted Wrexham's Hollywood owners as "top of the class" after being rewarded with a Rob McElhenney kiss "fully on the lips" for his penalty-saving heroics.
The 40-year-old former England goalkeeper, in the fourth game of his second Wrexham spell, was the hero as the Dragons beat Notts County 3-2 on Easter Monday to strike a potentially decisive blow in the Vanarama National League title race.
Foster flung himself to his right to save Cedwyn Scott's penalty in the seventh minute of stoppage time, earning a smacker from McElhenney while his fellow Wrexham co-owner Ryan Reynolds complimented the keeper on his looks.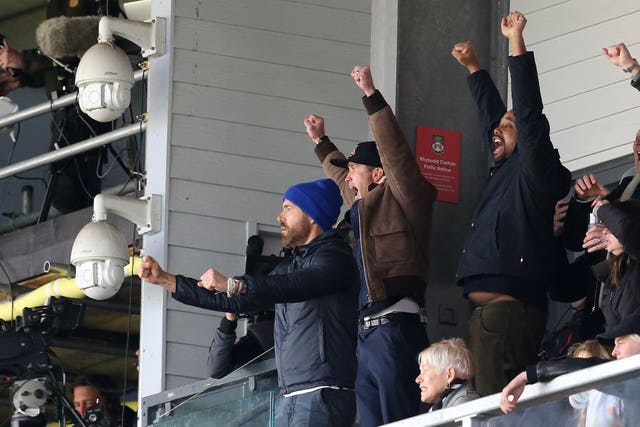 "I said to them 'Listen, you may as well end the documentary (the second FX series of Welcome to Wrexham) now. You'll never get a better moment than what's just happened.
"They're so happy, if you could order an absolute bob on, top of the class, top of the range owner, then you would just package them two up because they are as good as it gets.
"It means so much to them, they were buzzing at the end, they care so much.
"This is non-league but they're doing it like it's Premier League standard – the way they travel, prepare, training sessions, the food, the recovery. It is ridiculous how they run it, so fair play to them. They deserve all they get."
Wrexham need seven points from their final four games to clinch the title and end a 15-year absence from the Football League after establishing a three-point lead over County.
Foster, who played for Wrexham as a 21-year-old when on loan from Stoke in 2005, was in the Premier League at Watford last season.
But he was retired for nine months until he answered an SOS at Wrexham after regular goalkeeper Rob Lainton was ruled out for the rest of the campaign.
"As a goalkeeper for the last 10 years I've just been a game player, the adrenaline buzz when that kick-off comes," said Foster, who was capped eight times by England and played for Birmingham, Manchester United and West Brom among others.
"The reason I did retire was because I wasn't feeling that so much.
"I only came back because it's Wrexham, a club that I know and owe a lot to. If it was anybody else it wouldn't have been a question.
"I had so many offers earlier in the season – the big Newcastle one, a couple from other Premier League teams, others around the world, in America. Nothing ever really fitted me or I was interested in, but this stuck out like a sore thumb.
"Who would have thought a Welsh team would have meant so much to me? It's mad. But this is where my football journey really began, playing 20-odd games here.
"I didn't want to come here and it be like a bit of a circus, like: 'Oh he played in the Premier League last year, he does his YouTube and it's all about getting content'.
"It's not. I promise you it's about playing good football, I'm competitive and I want to win."
Foster saved a Pierre-Emerick Aubameyang penalty at Arsenal last season but admitted his last-gasp Racecourse stop was among the biggest moments of his career.
He said: "I've played over 500 games and probably had two of those moments in my whole career.
"I've called out goalies for celebrating saves but I couldn't help myself because of what it meant to the lads and fans. That was as good as it gets."