David Moyes admitted the result was better than the performance after West Ham escaped with a 1-1 draw away at Belgian side Gent in the first leg of their Europa Conference League quarter-final.
Danny Ings put the Hammers ahead against the run of play just before half-time with the first European goal of his career.
But Gent, fourth in the Belgian first division, deservedly levelled in the second half through Hugo Cuypers.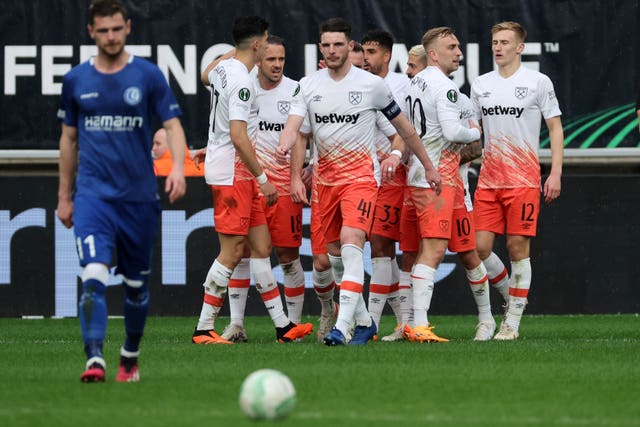 Former West Ham midfielder Joe Cole was scathing of the display, and said on BT Sport: "We're lucky it's still in our hands.
"There was not enough intensity in the play. For a lot of these players this is as close as they will ever come to winning a European trophy.
"West Ham have got away with one tonight."
"Overall it was a really tough game, very physical, Gent were very strong and made it very difficult for us," he said.
"I don't think we were underestimating them. I think when you get to this stage of the competition, into the final eight, there are not many bad teams wherever you go.
"I think you will find everyone has worked really hard to be here and they don't want to give up a chance to make a semi-final. We knew that would be the case. We knew it would be tough and it proved to be.
"I didn't think the performance was good but the result was not a bad result. In cup competitions we know what can happen. We're away from home, facing a strong crowd, and Gent played very well tonight."
Moyes has fallen foul of ball boys in Europe before; he was sent off for kicking a ball at one in their semi-final defeat at Eintracht Frankfurt last season.
But he was grateful to the Gent youngster who lobbed the ball straight to Vladimir Coufal so the right-back could immediately find Jarrod Bowen, who crossed for Ings to tap home at the far post.
"That's the reason we brought Danny in, because he has got goals in him," added Moyes.
"If we create chances, he will take them. We didn't create enough tonight, we didn't build well enough and made it difficult for ourselves. We were more liable to score a second on the counter, but it didn't materialise.
"Hopefully we can show them a bit more about how we play when we see them next Thursday."