Thirty-four years on from the Hillsborough disaster hundreds are still struggling with the trauma but a Liverpool support group is helping to save the lives of people who feel they have reached the end of the road.
Timely interventions by the Hillsborough Survivors Support Alliance (HSA) have prevented a number of attempted suicides while also providing therapy for those severely affected by the events at that fateful FA Cup semi-final at Sheffield Wednesday's ground in 1989 which resulted in 97 deaths.
Monthly meetings, WhatsApp groups and even activism all help in the healing process but HSA chairman Peter Scarfe admits the fallout from last summer's Champions League final, where chaotic scenes saw thousands of Liverpool fans involved in dangerous congestion before being tear-gassed by police, has created a whole new wave of problems.
"We fundraise to pay for people to go for private, bespoke therapy, and the success rate is really high," he told the PA news agency.
"We are doing some good stuff. But then of course what happened at Stade de France we then had to set up a sub-group and have managed to send several people for therapy for that as well because it retriggered a hell of a lot of people.
"Stade de France was almost a carbon copy of what happened at Hillsborough and there are so many things you can relate from one to the other.
"It is known people took their own lives after being retriggered after what happened at Stade de France."
The HSA was set up in 2019 to provide mental health support for those who were struggling with the impact Hillsborough has had on them.
More than 150 people have accessed therapy through the group and it is estimated around 100 people are now no longer involved because they have found a way to move on with their lives.
"People are changing their lives and the stories we are getting are unbelievable and really heartwarming to hear people moving forward with their lives," added Scarfe.
"You hear about people taking their own lives and attempts to take their own lives but they want peace. They have gone through so much, they are just looking for it to end," said Scarfe.
"People say, 'I'm OK, it doesn't bother me that much but…' and then they start telling you about nightmares, flashbacks, that they are no good for the whole of April until after the anniversary because of the anxiety and anger levels.
"We've had a couple who have attempted (suicide) and had more than a dozen who were at that stage of we were their last resort.
"There was a guy at Beachy Head on December 23.
"We had sent a message out on social media just to say, 'It's OK not to be OK and if you're struggling reach out' and at 11.25pm on December 23 he saw that message and messaged us.
"Three weeks ago we had someone message and he had already (harmed) himself. Of course then you are scrambling around thinking, 'Is there an ambulance on its way? Are we going to get him help?' and fortunately he is still with us.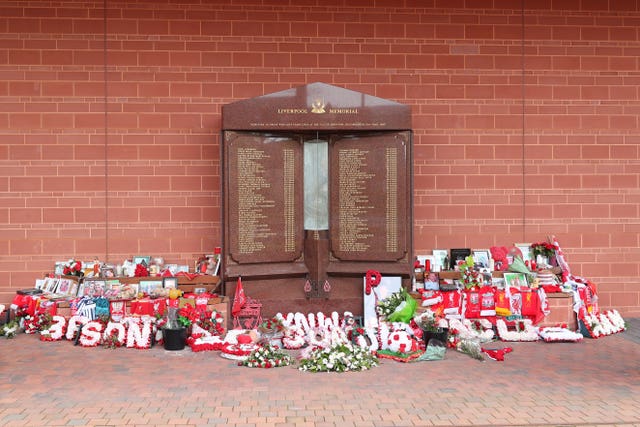 "We've had direct intervention. We are definitely saving lives."
Hillsborough survivor Tony O'Neil thought he had developed a successful coping mechanism to deal with the horrors he saw in the Leppings Lane end.
But events at the Champions League final triggered post-traumatic stress and he reached out the group for help.
"The triggers to Hillsborough were just there. It was more the panicking of people around me.
"I came home and was down, low on energy, and spent three or four weeks demotivated and lethargic.
"After a few weeks I realised there was something more serious going on so I went to my GP and was pretty much diagnosed with depression and post-traumatic stress related to Stade de France.
"I was put on some really serious anti-depressants which didn't really work for me and then put on a waiting list for counselling.
"I sat there thinking, 'What am I going to do, I can't carry on like this?'.
"Going to the first meeting was terrifying. I'd not been out of the house for three months but I met all these people and it was an instant thing that I felt a connection with them.
"My concern with joining was it was going to be one of those sit-around groups where nothing gets done but what has really engaged me is they get heavily involved in things like the tragedy chanting (campaign) but also any aspect to do with Liverpool supporters going to games and their wellbeing.
"We are absolutely concerned that people who are engaged with the group is only the tip of the iceberg, there are potentially hundreds or thousands of other people out there and we need to make sure they are OK and are coping with it."
Another survivor, Anthony Marlow, also employed an isolation technique in the aftermath which served him well for some time until things began to change.
He explained: "I had the coping mechanism of cutting myself off completely from anything related to Hillsborough or Liverpool Football Club. 'You'll Never Walk Alone' I couldn't bear to listen to. That was for about 15 years."
"Finding out about the HSA was a godsend to me as being in touch with people who were there on the day could help me with this problem.
"When we are together talking about certain issues regarding our mental health and psychological effects it is amazing how pieces connected in our own experiences, piecing together our own personal jigsaws.
"One of the members will put together pieces which solves part of my problem."
:: Further details about the Hillsborough Survivors Support Alliance can be accessed via their website www.hsa-us.co.uk.